2020 Customer Connections Roundtable - Winter Meeting
Hosted by Ocala Electric Utility
---
Thursday, February 6, 2020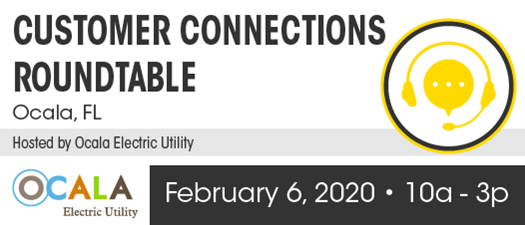 The FMEA Customer Connections Roundtable will convene February 6, 2020, hosted by Customer Connections Committee co-chair Veronica Martinez at Ocala Electric Utility.
Customer service professionals all work daily to improve relationships between their utility, its customers, and the community it serves. This roundtable provides a forum for participants to discuss, share, exchange, and problem-solve work procedures and policies, best practices, industry trends, materials, and other topics of interest.
The roundtable discussion will allow each member to share issues that impact their utility and community. Please come prepared to discuss new developments, programs, and concerns.
Agenda
Introductions: Elizabeth Bendele, Manager Training & Member Services, FMEA
Welcome & Introductions: Veronica Martinez, Ocala Electric Utility
Objectives: Kinn'zon Hutchinson, Gainesville Regional Utilities
Presentation: 21st Century Technology in Customer Service
Presentation: QA/QC
Lunch: Provided by Ocala Electric Utility
Presentation: Leadership Development & Training Programs
Presentation: Billing & Back Office Metrics
Roundtable/Break-Out Session: Group Discussion of Pain Points and Best Practices
Closing: Debrief and Follow-Up
Who Should Attend?
Utility employees in the fields of customer service, energy services, key accounts, and public communications
Professional and management level specialists, coordinators, supervisors, managers, and directors
Registration Information:
You must be logged in to purchase event registrations.
No cost, but please register for planning purposes.
Lunch provided.
Registration deadline: January 31, 2020.
---
Roundtable Location:
Nearby Hotel:

Hilton Ocala
3600 SW 36th Ave.
Ocala, FL 34474
(352)854-1400
Ask for the government rate
For More Information: