2019 Energy Auditors Roundtable - Winter Meeting
Hosted by Beaches Energy Services
---
Thursday, December 12, 2019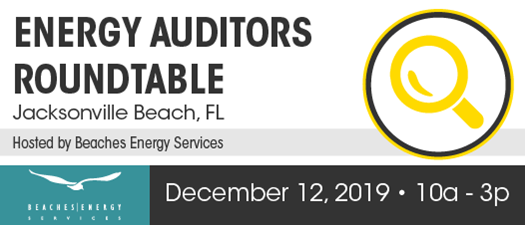 The Energy Auditors Roundtable will convene again this December, this time hosted by Rik Amato at Beaches Energy Services in Jacksonville Beach.
This roundtable provides a forum for participants to discuss, share, exchange, and problem-solve work procedures and policies, best practices, industry changes, equipment and materials, site-specific issues, and other topics of interest.
The roundtable discussion will allow each member to share issues that impact their utility. Please come prepared to discuss new developments, programs, and concerns.
Agenda
Welcome: Mike Staffopoulos, City Manager, Jacksonville Beach
Introductions: Elizabeth Bendele, Manager Training & Member Services, FMEA
Objectives: Rik Amato, Conservation Specialist, Beaches Energy Services
Presentation: Going Green? In Florida You Have a Choice, Mary Tappouni, President of Breaking Ground Contracting, Board Member of Florida Green Building Coalition, and Chairman of the North Florida Green Chamber of Commerce.
Lunch: Provided by Beaches Energy Services
Roundtable Session: Group Discussion of Emergent Trends, Best Practices, and Pain Points
Closing: Debrief and Follow-Up
Who Should Attend?
Energy Auditors
Account Managers
Conservation Specialists
Energy Analysts
Electric Technicians
Any utility staff member who has an interest in energy audit related topics
Registration Information:
You must be logged in to purchase event registrations.
No cost (but please register below for planning purposes)
Lunch provided
Registration deadline: December 5, 2019
---
Roundtable Location:
Jacksonville Beach City Hall
11 North 3rd Street
Jacksonville Beach, FL 32250
Nearby Hotel:
Holiday Inn Express Jacksonville Beach
1101 Beach Blvd
Jacksonville Beach, FL 32250
(904) 435-5000
Call the hotel front desk (not Reservations) and book with the Jacksonville City 12/12 rate of $119.
For More Information: