2020 Energy Connections Virtual Conference - Customer Service Session
---
Tuesday, November 3, 2020
10:00 AM - 12:30 PM (EST)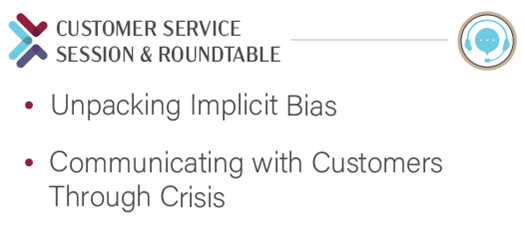 ---
Unpacking Implicit Bias

Communicating with a customer whose background varies greatly from one's own can at times lead to misunderstanding and tension.
This session will help attendees reflect on their own beliefs and unpack these implicit biases that hamper our ability to understand and support customers within the increasingly diverse communities we serve.
About the speaker
Yvette Carter is Gainesville Regional Utilities' (GRU) first Chief Inclusion Officer. She leads GRU's inclusion and cultural competency initiatives and works closely with the City of Gainesville's Equal Opportunity office in equity efforts. Additionally, Yvette is responsible for the utility's community outreach, community partnerships, and community investments; and serves as ombudsman and government relations liaison for the organization. At GRU and in the community, she is a vital voice on issues of social responsibility, corporate citizenship, and volunteerism. She is engaged with industry associations, including: American Association of Blacks in Energy (AABE), American Public Power Association (APPA), National Utilities Diversity Council (NUDC), Public Utility Research Center (PURC), and is a board member of Florida Municipal Electric Association (FMEA). Yvette also serves on the boards of several local non-profit organizations and community advisory teams.

Prior to joining GRU, Yvette worked for Nationwide Insurance for 14 years in various Claims capacities. She was instrumental in community outreach and service initiatives, as well as matters of diversity and inclusion for the organization. She was a founding member of the Diversity and Inclusion Business Unit Council and visionary/founding member of two employee resource groups that provided professional and personal development for women.

Yvette graduated from the University of Florida, with a Bachelor of Science degree in Family, Youth and Community Sciences with a concentration in Community Development and minor in Education.
---
Communicating with Customers Through Crisis
Over the last year, both utilities and their customers have faced unparalleled upheaval.
Crafting a strategy to reach and support customers as new issues develop daily can create a difficult and dynamic scenario.
This session will focus on the actions taken and lessons learned by customer operations leadership at JEA.
About the speaker
Sheila Pressley is JEA's Director of Customer Revenue. As the Director of Customer Revenue, Sheila is responsible for the entire revenue cycle which includes more than $9 million in operating budgets, $2 billion in billings, payments and collections, customer identity and fraud protection, revenue risk and low-income customer assistance programs.

Sheila is heavily involved in the Jacksonville community, serving a second term as Chair of the Planning Committee for the Northeast Florida Community Action Agency, a non-profit agency purposed to stabilize vulnerable households and empower families in Northeast Florida to achieve self-sufficiency through education, employment, and advocacy. She also serves on the National Energy & Utility Affordability Coalition (NEUAC) board of directors. NEUAC works to highlight the energy needs of low-income households and advocate for policies and programs to help reduce their energy burdens. She is a newly installed JAX Chamber Trustee and holds a Bachelor of Science in Business Administration.