2020 Energy Connections Virtual Conference - General Session
Keynote Presentations
---
Monday, November 2, 2020
10:00 AM - 12:30 PM (EST)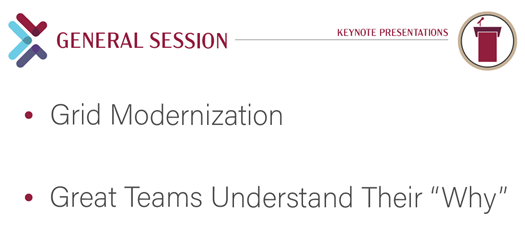 ---
Grid Modernization: National Insights on Security, Resilience & Policy
The expansive electricity system connecting our nation is one of the most critical infrastructure assets in the United States. How is the U.S. Department of Energy's Office of Electricity working to improve grid resilience and reliability in a time when security threats on critical infrastructure such as power grids ramps up?
Acting Assistant Secretary, Principal Deputy Assistant Secretary Patricia Hoffman will join FMEA members to share energy industry insights from the OE, including the security and reliability of energy infrastructure and electricity policy planning.
About the speaker
Patricia Hoffman is currently the Acting Assistant Secretary, Principal Deputy Assistant Secretary for the Office of Electricity Delivery and Energy Reliability (OE). She provided leadership at the Department during the transition by acting as Undersecretary for Science and Energy from January to November 2017. During this time, the Department responded to Hurricanes Harvey, Irma, and Maria. She was named Assistant Secretary for OE in June 2010 after serving as Principal Deputy Assistant Secretary since November 2007. The focus of her responsibility is to provide leadership on a national level to modernize the electric grid, enhance the security and reliability of the energy infrastructure and facilitate recovery from disruptions to the energy supply both domestically and internationally. This is critical to meeting the nation's growing demand for reliable electricity by overcoming the challenges of our nation's aging electricity transmission and distribution system and addressing the vulnerabilities in our energy supply chain.
---
Great Teams Understand Their "Why"

Learn how to constantly remind your employees and colleagues of who they are in service of while being acutely aware of the downstream beneficiaries. The impact is often much more than the immediate customer—when we can connect and truly feel why what we do matters, it heightens the amount of discretionary effort we put into our tasks and responsibilities. The more a company creates "Feel-it Moments" or "Mission Moments" for team members to understand their greater purpose, the better off the team will be when it comes to enduring any challenges along the way.
In this captivating keynote, Don Yaeger shares his findings from firsthand experiences & interviews with Olympic Gold Medal winners like former USA Basketball Head Coach Mike Krzyzewski (Coach K), 2-time NBA Champion Kevin Durant, and USA Basketball CEO Jerry Colangelo, as well as 6-time NFL Super Bowl Champion quarterback Tom Brady, thought-leader Simon Synek, and longtime Medtronic CEO Bill George.
Attendees will greatly benefit from this message by remembering how one of the most dominant teams of all-time lost focus, failed miserably, and then designed its own road back to sustainable success. Your audience will then be able to apply Don's 4 action items into current areas of their personal and professional lives, which will undeniably spark a deeper connection to their work, and more meaningful effort toward their daily, weekly, and monthly results.
About the Speaker
An award-winning keynote speaker, business leadership coach, eleven-time New York Times best-selling author, and longtime Associate Editor for Sports Illustrated, Don Yaeger has fashioned a career as one of America's most provocative thought leaders. Additionally, as an Executive Coach, Yaeger has worked with a range of leaders from the president of the largest bank in the Caribbean to CEOs of financial services companies to technology executives. Throughout his writing career, Don has developed a reputation as a world-class storyteller and has been invited as a guest to almost every major talk show – from The Oprah Winfrey Show to Nightline, from CNN to Good Morning America.