2020 Energy Connections Virtual Conference - T&D/Utility Ops Session
---
Thursday, November 5, 2020
10:00 AM - 12:30 PM (EST)
FMEA Virtual Meeting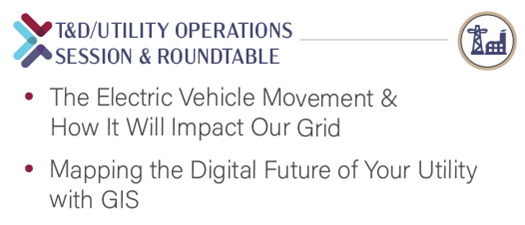 ---
The Electric Vehicle Movement and How It Will Impact Our Grid
We have assembled a panel of experts to discuss the expected impacts of the Zero Emission Vehicle (ZEV) Investment that resulted from the Volkswagen Clean Air Act Civil Settlement. This settlement pushes $2B into electric vehicle infrastructure, including thousands of charging stations across the U.S.
This development will change both demand on our grid as well as infrastructure requirements. From public EV charging stations to vehicle to grid (V2G) services, our panel will share their expert insight into how this trend could impact the power sector in 2021. This panel will feature both dialogue between panelists as well as opportunities for live Q&A.
Panelists include Chris Stammen, VP of Power Generation & Power Delivery at ENERCON, Jigar Shah, Manager for Distributed Energy and Grid Services with Electrify America, and Justin Kramer, Supervisor of Emerging Technology and Renewables at OUC.
About the speakers
Chris Stammen is Vice President of ENERCON's Energy Division which includes Generation, Power Delivery and Data Centers. Mr. Stammen is responsible for strategic direction and growth in support of our current and future clients. As the energy portfolio in the U.S. changes, Mr. Stammen advises clients on potential alternatives to achieve their economic, environmental and operational goals. Prior to joining ENERCON, Mr. Stammen spent over 20 years at GE in various roles including Director of Engineering at GE where he led the development of micro-grids, co-generation and combined cycle generation projects. Mr. Stammen also led GE's Corporate Energy Group negotiating energy contracts for GE's large manufacturing plants including demand side management, time-of-use and high load factor special riders. Prior to GE, he served in a variety of engineering and manufacturing positions with Mobil Chemical for eight years. Prior to Mobil, he worked as a controls engineer at Monsanto for two years.
Jigar Shah is the Manager for Distributed Energy and Grid Services at Electrify America. Jigar is responsible for optimizing Electrify America's energy portfolio, including managing rate structures, leveraging energy storage to manage exposure to demand charges, engaging with utilities and wholesale energy markets, as well as addressing vehicle-grid integration matters. Jigar has a Bachelor of Science degree in Electrical and Computer Engineering, with a minor in Business, from Cornell University, and a Master of Engineering degree in Electrical Engineering from Princeton University. Prior to his role at Electrify America, Jigar was a Principal Consultant within the Energy and Utilities Practice at West Monroe Partners, where he advised utility clients on smart grid modernization topics, including rate structures and the use of energy storage to defer utility distribution investments. Jigar has publications in prominent scientific journals including IEEE Transactions on Smart Grid and Wind Energy Science and has five filed patent applications on topics spanning electric vehicle charging, electric grid congestion, and wind energy control systems.
Justin Kramer is the Supervisor of Emerging Technologies for the Orlando Utilities Commission. He has a Masters Degree in Mechanical Engineering with a specialty in Sustainable Energy Engineering from Florida State University. While at FSU, he was the project manager for the Energy and Sustainability Center and has experience in hydrogen combustion, building efficiency, solar thermal energy, fuel cells, electrolysis, electric vehicles, micro-grids and PV technologies. With his professional engineering license, he has designed and commissioned all sizes of buildings, all over the world but prefers work in the Islands. At OUC he leads a team of engineers working on projects including vehicle-to-grid demonstrations, hydrogen technologies, micro-grid controls, flow batteries and more. His current focus is to develop the tools that will be needed for the Utility of the Future.
---
Mapping the Digital Future of Your Utility with GIS
Geographic Information Systems have been empowering electric utilities for decades. With today's geospatial analysis, you can work smarter, not harder to improve utility ops and keep the lights on. Learn how a fellow Florida public power utility is unleashing the power of GIS data.
About the speaker
Eric Weaver PE graduated from Florida Atlantic University with a degree in Mechanical Engineering and is a Professional Engineer with nearly two decades of experience in the utilities industry. Eric currently serves as Director of Ocala Electric Utility, overseeing transmission and distribution, construction, automated meter infrastructure, system operations and power compliance. Before joining the City of Ocala, Eric worked as an Engineer for both Gulf Power and Florida Power and Light.