2019 FAASSTeR Meeting - Summer
Summer 2019 Meeting
---
Monday, June 24, 2019
at
1:00 PM (EDT)
to Wednesday, June 26, 2019 at 5:00 PM (EDT)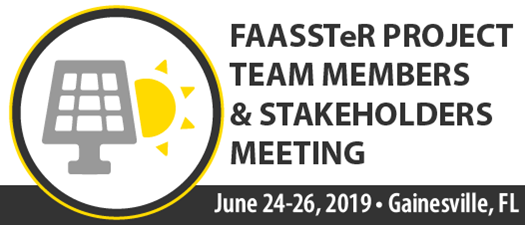 About the Meeting
This is a regular in-person meeting, workshop, and seminar of the U.S. Department of Energy-funded Florida Alliance for Accelerating Solar and Storage Technology Readiness (FAASSTeR) initiative, including a project team meeting a broader stakeholder workshop.
Registration Information
Representatives from FAASSTeR Team Member Organizations and All FMEA Member Utilities: $0
Invited Speakers and Presenters: $0
All others: $80
Who Should Attend?
FAASSTeR Team members
Representatives from FAASSTeR project team member organizations, including all Florida Municipal Electric Utilities, FMEA, NREL, LBNL, SACE, and State of Florida Office of Energy
Stakeholders/Vendors
Executives, managers, engineers, researchers, educators, policy makers, government officials, and other stakeholder involved in electric power and energy who are interested in the issues and opportunities related to solar, energy storage, and distributed energy technology.
Forum Overview
Monday, June 24
1:00 - 5:00 pm
Team Members and Stakeholders/Vendor meeting
Tuesday, June 25
8:30 am - 4:00 pm
Team Members and Stakeholders/Vendor meeting
Wednesday, June 26
9:00 am - 5:00 pm
Team Members only meeting (at GRU Eastside Operations Center)
Location Details
Suggested hotel and Monday-Tuesday meeting location:
Hilton University of Florida Conference Center
1714 SW 34th St.
Gainesville, FL 32607
Phone: 1-800-HILTONS (445-8667), and reference Group Code: FME19
FAASSTeR Room rate: $129
FAASSTeR rate expires June 3 or when the room block is filled.
Online room reservations: Click here.
Wednesday meeting location:
GRU Eastside Operations Center
Building #7 Multipurpose room
4747 North Main St.
Gainesville, FL 32609
For More Information: