2019 Florida Utility Electric Vehicle Roundtable - Winter
Hosted by OUC - The Reliable One
---
Wednesday, February 13, 2019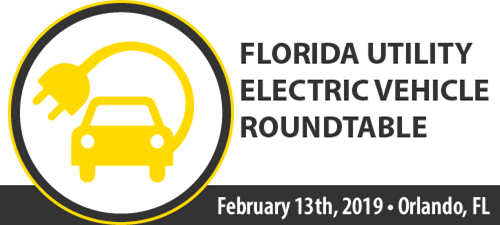 Host utility OUC and FMEA invite Florida's electric utilities to come together to discuss the current electric vehicle (EV) landscape in Florida, the impact EV are having and will have on the electric utility industry, what utilities are doing to prepare, and issues, challenges and opportunities the industry is facing.
This workshop is open to all Florida electric utilities – municipal, cooperative and investor-owned.

Discussion Topics Include:
Electric Vehicle 101
Marketing Requirements
VW Settlement Submission
Electric Vehicle Data
Collaborative Projects
Who Should Attend?
Sustainability Programs Managers
Conservation and Efficiency Managers
Regulatory and Compliance Personnel
Renewables Coordinators
Electrical Engineers
Utility Directors and Managers
Policymakers
EV Coordinators
Registration Information:
Open to all Florida Electric Utilities
Free (but please register below for planning purposes)
Lunch will be provided
---
Agenda
February 13
9:00 AM - 10:00 AM

Continental Breakfast

10:00 AM - 11:00 AM

Electric Vehicle 101: Vehicles, Batteries, Charging Infrastructure and Grid Implications

11:00 AM - 12:00 PM

Electrify America – Strategy and Partner Opportunities

12:00 PM - 12:45 PM

Lunch

12:45 PM - 1:00 PM

Update on the Volkswagen Settlement

1:00 PM - 1:30 PM

Florida EV Cost Benefit Analysis

1:30 PM - 2:30 PM

Collaborative Project with XL Hybrids

2:30 PM - 3:00 PM

Data Sources

3:00 PM - 3:00 PM

Closing Remarks
For More Information: