2023 FMEA Annual Conference
---
Tuesday, July 18, 2023
to Thursday, July 20, 2023
Category: FMEA Signature Events

Code of Conduct | Cancellation Policy
The 2023 FMEA Annual Conference is taking place at The Vinoy in St. Petersburg and will bring together the leading elected officials and decision-makers of Florida's public power utilities for a three-day event filled with informative speakers, networking opportunities, and a relevant agenda addressing current industry challenges. The conference will kick off with a welcome reception on Tuesday evening and will conclude with the Annual Banquet on Thursday night, honoring the Florida public power community.
The conference is a must-attend summer event and premier gathering of industry leaders and continues to be successful thanks to the support of the Florida public power community.
Diamond Sponsors
Platinum Sponsor
Tentative Agenda

Tuesday, July 18
1:00 - 5:00p

Registration Desk Open

2:00 - 4:30p

Pre-conference Seminar (separate registration required)

Maximizing Federal Funding Opportunities for Public Power, Joel Laubenstein,

Dan LaHaye,

Brooke Opel

, Miranda Wojciechowski, Baker Tilly

The past year and a half have seen two pieces of legislation signed into a law—the Infrastructure Investment and Jobs Act (IIJA) and the Inflation Reduction Act (IRA)—that provide historic opportunities for public power to upgrade, modernize, and innovate electric, gas, water, and telecommunications infrastructure.

Join Baker Tilly for a workshop on how utilities can maximize the federal funding opportunities announced through the IIJA and IRA. The workshop will include an overview of the IIJA legislation, updates on what we have learned in the first year of the bill, and current and future grant opportunities of particular interest. The workshop will also help breakdown the IRA overall and key areas of interest for public power with a focus on direct pay tax credit provisions, tax credit "adders," and other competitive funding opportunities embedded within the Act. Finally, the Baker Tilly team will provide best practices for grant writing, so you are better prepared to take advantage of the federal funding being made available to public power.

5:30 - 6:30p
Networking Reception for Colleagues and Sponsors
Wednesday, July 19
7:30a - 5:009

Registration Desk Open

7:30 - 10:30a
FMPA Meetings
10:30a - 1:00p
FMEA Board of Directors meeting and lunch
1:00 - 1:30p
Ice Cream Social
1:30 - 5:15p

General Session

WATT is F-ROC? How to Unleash the Power of F-ROC and AMP Up Your Public Assistance Game, Kevin Guthrie, Director, Florida Division of Emergency Management

The FEMA Public Assistance reimbursement process is getting a little help from the Florida Division of Emergency Management. Director Kevin Guthrie will examine the Florida Recovery Obligation Calculation Program (F-ROC) from a municipal electric perspective and provide an overview of updates, tools, and forms Public Assistance applicants can use in the event of a disaster in the State of Florida. In this session, you will learn more about the Florida Recovery Obligation Calculation (F-ROC) Program and determine if participation is right for you, examine what is needed to effectively implement the Florida Recovery Obligation Calculation (F-ROC), and understand the opt-in decision-making process to participate in F-ROC.

The (Pricing) Future of Natural Gas and Other Fuels, Mike Gehring, Director, Portfolio Management & Analytics, The Energy Authority
What's Old is New Again: The Case for Renewables and Nuclear Energy, JEA

6:00 - 7:30p
Reception Honoring Elected and Appointed Officials
Thursday, July 20
7:00a - 4:00p

Registration Desk Open

7:30 - 8:15a
Continental Breakfast
8:15a - Noon

General Session

Innovations in Energy Storage, Orlando Utilities Commission and Burns & McDonnell

Bond Forecast for Public Power Utilities,

Fitch Ratings
Washington Update, Michael Nolan, President, MJN Consulting
Keynote address: National Security: Your Safety & Bottom Line, Commander Kirk Lippold (USN-Ret.)

As the commanding officer of the USS Cole during the al Qaeda terrorist attack in Yemen, Commander Kirk Lippold's story of leadership and bravery is sure to inspire and motivate attendees. Beyond his heroic actions on the USS Cole, Commander Lippold is a renowned leadership speaker who has spoken to Fortune 500 companies, leading financial institutions, and top industry associations.

Former USS Cole Commander Kirk Lippold is a frequent guest on many cable news networks that cover national security issues and global hotspots. In his speeches, CDR Lippold breaks down how the U.S. national security apparatus actually operates. His presentations are informative, relevant, and accessible for a broad range of audiences. Lippold delivers a thorough analysis of the day's news headlines and world events that drive strategy and shape our security posture. Covering current topics from Russia, China, and the Middle East, to North Korea and the global threat of cybersecurity/cyberwarfare, Lippold provides audiences with an invaluable perspective on U.S. policy development, risk management, the state of the world, and what it means for you and your organization.

Noon - 1:30p
Luncheon
2:00 - 4:00p
Concurrent Breakout Sessions

Breakout Session One

Establishing a Utility Authority for Your Community-Owned Asset
Update on IOU Transmission Rates and Major FERC Proceedings, Steve Pearson and Cindy Bogorad, Partners, Spiegel & McDiarmid Spiegel & McDiarmid

Breakout Session Two

BlockEnergy: An Innovative Clean Energy Generation and Delivery System,

BlockEnergy and Lakeland Electric

Physical Security Assessment & Risk Mitigation, Alan Sowell, POWER Engineers

Breakout Session Three

Integrated Resource Planning: The Lake Worth Beach Experience,

Ed Liberty, Director of Electric Utilities, City of Lake Worth Beach, and Greg Turk, Principal, Horizons Energy

FMPA Policymakers Meeting

6:30 - 7:00p
Reception
7:00 - 9:00p
Annual Banquet
| | | | |
| --- | --- | --- | --- |
| Attendee Registration | | | |
| FMEA Municipal Member | $625 | $650 | $675 |
| FMEA Associate Member | $725 | $750 | $775 |
| Non-Member | $1,025 | $1,050 | $1,075 |
| | | | |
| --- | --- | --- | --- |
| Spouse/Significant Other Registration | | | |
| FMEA Municipal Member | $225 | $250 | $275 |
| FMEA Associate Member | $275 | $300 | $325 |
| Non-Member | $325 | $350 | $375Additio |
Additional Fees

FMEA Member (Municipal & Associate)

Pre-conference seminar

$50
(Municipal only)

N/A

Additional Banquet ticket

$125

$150
Sponsorship Opportunities
There are opportunities for sponsorship of this key gathering of Florida's municipal electric utilities at Elite, Diamond, Platinum, Gold, Silver and Bronze levels. Each sponsorship package delivers great benefits, such as promotion of your company brand, both in advance of the conference and at the event itself, and much more!
Number of registrants included

Elite

$20,000

6**

Diamond

$12,000

6*

Platinum

$10,000

4

Gold

$7,000

2

Silver

$4,000

1

Bronze

$2,000

0

**Elite Sponsorships are limited to one (1) per calendar year and receive all benefits at FMEA Signature Events during that year.

*Diamond Sponsorships are limited to four (4) per calendar year and will receive Silver level benefits at the other FMEA Signature Events in that year.

Cancellation Policy: Sponsors who cancel in writing before June 9, 2023, are entitled to a refund of their registration fee, minus a 15% administrative fee. Due to hotel and catering guarantees cancellations after this date can not be refunded.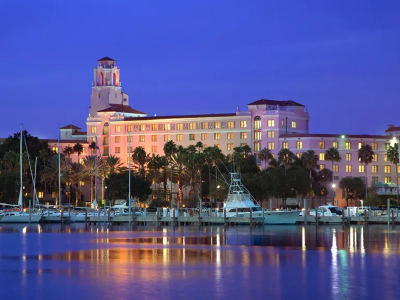 Conference Hotel
The Vinoy® St. Petersburg
501 5th Avenue NE
St. Petersburg, FL 33701, US
*The Vinoy room block at FMEA's discounted rate is full. Please email Nicole Albers to be added to the waitlist for The Vinoy.
Need to cancel your reservation at The Vinoy? Let Nicole Albers do it for you.
---
Overflow Hotel
FMEA staff is negotiating with a nearby hotel for overflow guest rooms, details will be posted soon.
---
FMEA Continuing Education Program
There are 7.75 CEU's (Professional Development Hours) available for attending this FMEA event.
Who attends this event?
CEOs, General Managers and Directors
Utility Leadership and Future Leaders
Mayors
City Council Members and Commissioners
Governing Board Members
City Managers
Municipal Leadership
Legal and Regulatory Counsel
Policymakers
FMEA Policymaker Scholarship Program
Recipients of the FMEA Policymaker Scholarship are awarded complimentary conference registration. Spouse/Guest registration not included. Recipients must meet the following criteria:
One scholarship awarded annually per FMEA utility member
Recipient must be a first-time conference attendee
Recipient must be accompanied by a senior-level city or utility official who is fully registered for the Conference
For more information regarding the FMEA Policymaker Scholarship, please contact Director of Public Affairs and Strategic Communications, Nicole Albers.
For More Information: