2020 FMEA Virtual Roundtable: Florida Public Power Communicators - May
May Pre-Hurricane Season Meeting
---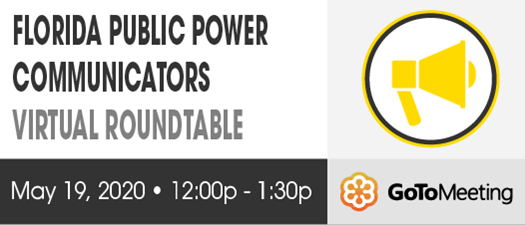 FMEA invites Florida public power communicators to come together for a virtual roundtable ahead of the June 1 start of hurricane season. Forecasters are predicting an above average 2020 Atlantic hurricane season. Coupled with the COVID-19 pandemic, this hurricane season is sure to present unique and uncharted challenges on how and what messages public power utility communicators deliver to customers and the public related to hurricane preparation and response. In addition, precautions intended to limit the spread of COVID-19 will alter the way mutual aid events are handled and communicated to electric customers in the wake of large-scale storm events.
This virtual roundtable will include a brief mutual aid discussion, round-robin of utility preparations for the upcoming hurricane season, and a sharing of communications strategies and resources.
Preliminary Discussion Topics:
Hurricane season communications and COVID-19, including mutual aid

*Please submit additional topics for discussion upon registration
Who Should Attend?
Communications and marketing staff, including utility spokespersons, public relations specialists, PIOs, digital media managers

Florida public power personnel interested in discussing topics about the communications and marketing functions for municipal electric utilities
Registration Information:
Open to all Florida municipal utility employees and municipal communications staff of FMEA member cities
No cost as a benefit to our members (please register to receive meeting details)
GoToMeeting details will be emailed to you directly after registration