2020 FMEA Virtual Roundtable - Mutual Aid During Pandemic: Lessons Learned
FMEA Virtual Roundtable
---
Thursday, June 4, 2020
10:00 AM - 11:30 AM (EDT)
FMEA GoToMeeting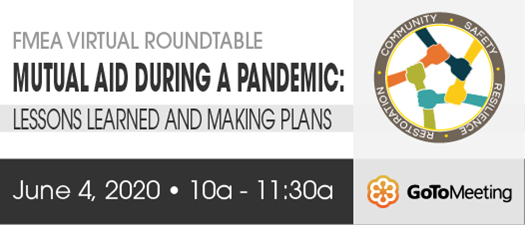 The 2020 Hurricane Season was already predicted to be very active, and not surprisingly, it is off to an early start. Preparing and reviewing your storm preparation plans is an immediate need for all utilities.
If mutual aid is required during a pandemic, additional precautions and procedures will be needed to address new norms for social distancing and sanitizing precautions. These practices will impact all considerations made for mutual aid including lodging, food, onboarding and work assignments. FMEA invites all public power employees involved in mutual aid to come together for a virtual roundtable to address these concerns.
Sheryl Jenkins and Neal Potter of Chattanooga EPB who will share their experiences regarding mutual aid in the midst of a pandemic after devastating tornadoes touched down in their service territory in mid-April. FMEA Executive Director Amy Zubaly will then provide an update on the COVID-19 Mutual Aid Addendum and continue with an open Q&A and discussion session for FMEA members to share new hurricane preparedness policies and procedures put in place to address COVID concerns.
Please submit any questions or discussion topics you would like addressed in advance to Amy Zubaly.
---
Registration Information:
Open to all Florida municipal utility employees and staff of FMEA member cities
No cost as a benefit to our members (please register to receive meeting details)
Meeting details will be emailed to you directly after registration
---
---
Who Should Attend?
Mutual Aid Coordinators

Logistics Speicalists
Utility Operations
Safety Coordinators and Managers
Finance
For More Information: