2020 FMEA Webinar: UECU Storm Duty - Responding To Everyday Financial Storm
A #KeepConnected event
---
Thursday, September 24, 2020
FMEA Zoom Meeting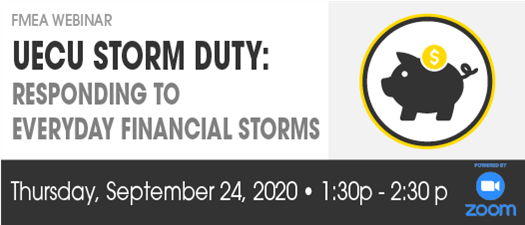 Join us for an introduction to one of our FMEA Powering On sponsors and learn how partnering with an energy and utility-focused credit union can help your family thrive financially.
Paula Simmons, Utilities Employees Credit Union's (UECU) National Account Representative with a passion for financial education, will provide an overview of the Credit Union's financial wellness program, convenient banking services, and exclusive savings and borrowing options. Learn about UECU's CueItUp program and how it can provide you and your utility colleagues and their families with the educational resources needed to reach your personal financial goals, at any stage in life.
---
Utilities Employees Credit Union, founded in 1934, has cared for this industry and served utility employees and their families for 86 years. Join us to learn how we can help you.
---
About the Presenter
Paula Simmons is a National Wellness Institute Certified Financial Wellness Facilitator with over 15 years of Financial Experience. Paula started her career as a Bank Teller and has held numerous positions including Loan Officer, Branch Manager, Indirect Lending Manager and currently National Account Representative at Utilities Employees Credit Union. In her current role, she has been able to share her passion for Financial Wellbeing across the US and her Financial knowledge to help UECU Members improve their Financial future.
For More Information: