2020 FMEA Webinar: COVID-19 Best Practices: Building Disinfection
FMEA Webinar Series
---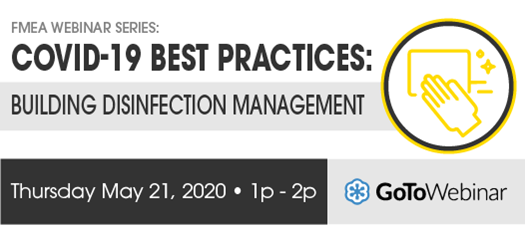 This webinar contains current information regarding COVID-19 and the latest guidelines for cleaning and disinfection of the SARS-CoV-2 virus at active workplaces. The presentation will also address Return to Service procedures for workplaces that are preparing to reopen. A question and answer session will be held after the presentation.
Featured Presenter:
Luis Smith is a Certified Industrial Hygienist (CIH) with over 31 years of experience providing technical consulting services to a diverse group of clients including utilities, military, government, health care, insurance, construction, property developers, property managers, legal, manufacturing, pharmaceuticals, automotive, etc.

Smith is proficient in the comprehensive practice of industrial hygiene including the recognition, evaluation, and control of workplace hazards. He specializes in the indoor air quality practice and has extensive experience performing microbiological assessment and remediation projects involving fungi, bacteria, arthropods, algae, etc. Mr. Smith provided technical guidance and project oversight for a COVID-19 cleaning and disinfection project this past March and is a member of AECOM's subject matter expert team that is providing COVID-19 support both internally and externally.
Who Should Attend?
Any Florida Public Power employee, but particularly those in Utility Operations and Safety personnel.
Registration Information:
Open to all Florida municipal utility employees and staff of FMEA member cities
No cost as a benefit to our members (please register to receive meeting details)
Meeting details will be emailed to you directly after registration
For More Information: