2019 Power Line Design and Staking Certification Program Level 4
---
Tuesday, February 19, 2019
at
9:00 AM (EST)
to Friday, February 22, 2019 at 12:00 PM (EST)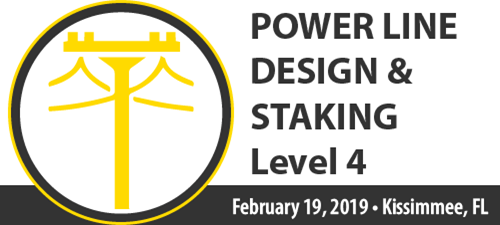 Power Line Design and Staking Certification Level 4 course participants will continue to build on the foundation created in prerequisite courses Levels 1, 2 and 3. Students will be taken beyond the basics of power line design and staking and will focus on reliability and efficiency with a focus on the aging power infrastructure and system reliability. Students will look at mechanical loading for multi-circuits, learn about commercial load sizing and will be guided through the process of calculating loads on manufactured products. Students will review National Electric Safety Code (NESC) and will learn when and how to apply Rule 250 C and D.
Discussion will include how local requirements and/or RUS standards and bulletins incorporate (and compare to) NESC rules. Participants will learn about system protection and balance, including proper protective equipment selection and placement. Students will also discuss storm preparation and recovery operations. Course handbook provided.
Course Details
Instructor: Dale Petticord, Training Specialist, Utility Training Services Inc.
Dale combines an enthusiasm for teaching with a solid foundation in engineering principles to prepare - and further develop class participants for successful careers in the power industry. He has a degree in Electrical Engineering Technology and over 35 years of utility power line design experience.
Course Materials: Students are required to bring a trigonometric functions calculator (ex.TI-30X), protractor, scale, 2017 NESC Code Book (not included in course materials). It is recommended that students bring pencils, paper, highlighters, and tabs for marking important tables.
Completion Certificate: Certificate awarded upon successful completion of course.
Who should attend?
Engineer Technicians
Engineers
Stakers
Journeyman Lineman
Line Construction Personnel
Design Engineers
Registration Information:
Registration Deadline: February 8, 2019
Registration Fee: (lunch included) $1400 per person FMEA Members