2020 Power Line Design & Staking, Level 2
Utility Training Services Virtual Workshop
---
Tuesday, December 1, 2020
to Friday, December 4, 2020
Utility Training Services Virtual Workshop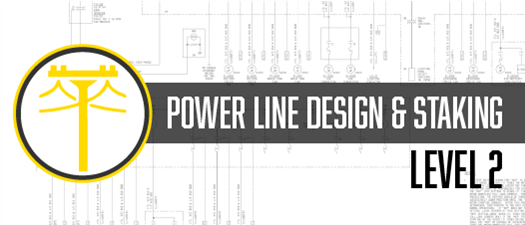 Pre-requisite: Successful completion of Power Line Design & Staking - Level 1 or relevant professional experience
---
In Level 2 of the Power Line Design and Staking series, students will build on the foundation created in the prerequisite course, Level 1. This class places emphasis on joint use remedy and make ready, as well as vertical and horizontal loading. After completion of Level 2, participants will be able to complete the layout and design of most overhead projects, understand and utilize NESC and sag chart criteria, evaluate and design make ready/remedy for joint use facilities, calculate the mechanical loading effects of line design, understand conductor blowout and design for/around grain bins, and will be able to design for crossing under transmission lines. Course manual provided.
---
Topics include:
NESC Advanced Clearance Issues
Permitting Procedures
Underground Distribution Concepts
Overhead Equipment Operation
Mechanical Design 3-Phase Angle & Dead-end Calculations
Joint Use Designs & Field Engineering Make Ready Process
Unique Structure Clearances
Conductor Envelope
Spacer Cable & Tree Wire
---
Registration Information:
Registration Deadline: November 20, 2020
Registration Fee: $1,400 per person for FMEA Members
Cancellations/No Shows/Substitutions
Registrants who cancel in writing on or before Nov 6, 2020 are entitled to a full refund of their registration fee. Registrants who cancel after Nov 6, 2020 will not receive a refund, but attendee substitutions will be allowed for this event only. Registrants and no-shows who do not cancel by Nov 6, 2020 are responsible for the full registration.
---

Instructor: Clint Smith, Training Specialist, Utility Training Services Inc.
Clint's experience in the electric utility sector currently spans a period of 28 years with work in cooperative, municipal, and IOU organizations.
His most significant assignments in the industry include Business Owner and Partner at Reliance Energy Consulting, Instructor in Line Design and Staking with Utility Training Services, System Engineer and Manager of Engineering at Cherokee Electric Cooperative in Alabama, and Consultant and Instructor with Power Delivery Associates in Georgia.
Course Materials: Students need to bring a copy of the current NESC and "kit" items provided in Level 1 to class (not included in course materials).
Completion Certificate: Certificate awarded upon successful completion of
course, which includes 21 PDHs and 2.1 CEUs.
---
Who should attend?
Engineer Technicians
Engineers
Stakers
Journeyman Lineman
Line Construction Personnel
Design Engineers
For More Information: