2020 Powering On Session - 2021 Financial Outlook
Powering On Virtual Conference - A #KeepConnected Event
---
Wednesday, August 12, 2020
10:30 AM - 12:00 PM (EDT)
FMEA Virtual Conference Session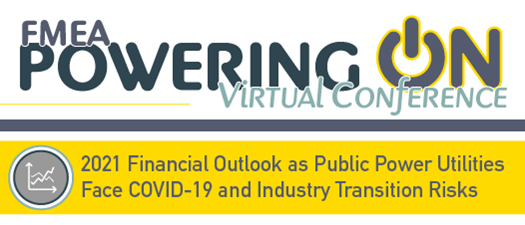 Public power utilities are facing major challenges including COVID and industry transition while working to maintain system reliability and financial strengths.
This session will focus on the outlook for 2021 with introduction of financial measurements and policies to maintain stability.
Guest Presenter
Dan Aschenbach formed a new firm in 2019, AGVP Advisory at agvpadvisory.com. The new firm has provided risk assessment consulting services for public finance and electric utilities in Florida and California, including serving as financial advisor to Peninsula Clean Energy. Some of the services include credit rating estimates and relationships, enterprise risk assessment matrix development and comparative assessments.
Dan was elected to the 2020 Board of Governors of the National Federation of Municipal Analysts. Dan is member of Municipal Analysts Group of New York.
Previously at Moody's Investors Service , he was senior vice president and led the firm's Public Power Electric Utility Ratings team with a portfolio of $120 billion. Dan chaired Rating Committees for most of his career at Moody's. Awarded the top industry analyst award for Power for 15 years, Dan provided value to investors through published articles and industry and investor conference presentations.
Prior to Moody's Dan worked for US Congressman Tim Lee Carter and US Congresswoman Helen Meyner.
Dan served on Cranford, New Jersey's governing board for 18 years and 4 terms as Mayor. Was Finance Commissioner for 9 terms. He has been Executive Director of the Mayors Council Rahway River Watershed Flood Control 2011-2020. Currently he serves on the Cranford zoning board.
Dan received his Bachelor of Arts degree in American Civilization and History at Boston University. Dan earned his Master's Degree in Public Administration at Rutgers University. Dan completed 48 credits towards a PhD at New York University School of Public Administration. Certificate in Legislative Affairs at George Washington University. Completed the Leadership for the 21st Century at Harvard University Kennedy School of Government.
Dan resides in Cranford New Jersey with wife Eileen.