2020 Powering On Session - Digital Transformation
Powering On Virtual Conference - A #KeepConnected Event
---
Tuesday, August 4, 2020
10:00 AM - 11:30 AM (EDT)
FMEA Virtual Conference Session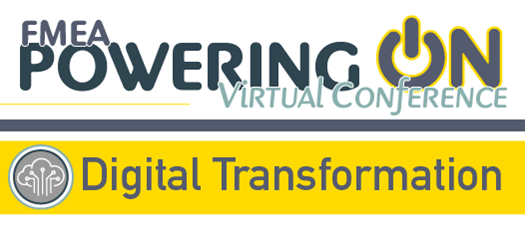 Digital modernization is all around us bringing new ways to interact with people and things, informing tactical and strategic decisions made daily. With this modernization comes disruption and the need for transformation.
In this session we will look at strategies that drive organizational adaptation to better utilize available technology. We will examine the impact of material changes in volume of data and discuss how the new infrastructure of data is changing to support desired business outcomes – in a language that brings technical and non-technical resources closer to the same page.
We will include a perspective on the application of data and asset security as these now come hand-in-hand and are increasingly each of our responsibility. In a world that grows more connected by the minute, opportunity abounds for those that can shift their organization to securely capture and apply the value of exponentially growing data.
Guest Presenter
Dirk Mahling, Senior Managing Consultant,1898 & Co., part of Burns & McDonnell
Dirk is a technology and consulting executive and is a leader in the digital transformation of electric and gas utilities. He pioneered the "digital utility" and customer experience at Seattle City Light and at Alliant Energy. He is a thought leader through publications and conference presentations and a trusted advisor to peer utility executives in the form of relevant engagements. His focus is on cost reduction and customer satisfaction through internal excellence and is responsible for all corporate IT systems, networks, operational technology, data privacy, cyber security, and compliance.


Steve Dresie, Managing Director, 1898 & Co., part of Burns & McDonnell
Steve has spent nearly 20 years leading teams across the globe to build creative technology solutions that deliver business results. He has proven ability to implement initiatives that bring business and technology teams together to achieve sustainable outcomes. His experience spans several technology pillars, industries, and business models allowing him to drive creative problem solving with the customer's organization in mind.
Jeff Macre, Project Manager, 1898 & Co., part of Burns & McDonnell
Jeff is an experienced leader specializing in information technology security, compliance implementation, including NERC Critical Infrastructure Protection (CIP), infrastructure management, and systems administration. He has more than 15 years of experience designing and implementing standards, procedures, and processes that improve business efficiency. Jeff has completed numerous successful projects ranging from Network and Infrastructure Upgrades, VOIP System Deployments, Wireless AP deployments, SIEM device configuration, and identification and implementation of compliance standards (PCI, HIPAA, and NERC CIP).


Jason Cradit, Senior Enterprise Architect, 1898 & Co., part of Burns & McDonnell
Jason is a passionate technology executive with a 15+ year history of spearheading Information Technology (IT) innovations across large and small organizations. He consistently questions the status quo and conventional wisdom in an effort to deliver IT solutions that are simple, effective and just work—all done with a passion for results and in collaboration with business leaders. His approach to understanding the needs and end-results of the people and services affected is the reason for his success in implementing effective technology solutions. Jason has a Bachelor of Science in Management, a Masters in Information Technology, with an emphasis in Cyber Security, and a Masters in Business Administration. He holds many IT certifications including CISSP, Microsoft and Comptia. He is a member of InfraGard, CSA and sits on the advisory council for SecureWorld KC.