2020 Powering On Session - Florida and the 2020 Election
Powering On Virtual Conference - A #KeepConnected Event
---
Wednesday, August 5, 2020
FMEA Virtual Conference Session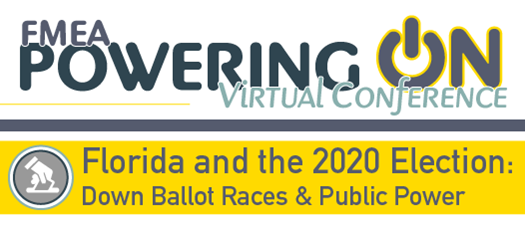 Florida is a historically competitive battleground state for presidential elections, which drive voter turnout and influence the outcome of races for down-ticket candidates.
How will the 2020 elections affect Florida's Congressional, state and local elected offices?
Florida Chamber of Commerce's Senior Director of Political Affairs and Coalition Advocacy Andrew Wiggins will examine demographic and political performance and provide analysis of how the 2020 elections will impact public power.
Guest Presenter
As the Senior Director, Political Affairs & Coalitions Advocacy for the Florida Chamber of Commerce, Andrew Wiggins manages the Florida Chamber's political campaign activity as well as build coalitions and works with local chambers of commerce throughout the state of Florida.
Prior to joining the Florida Chamber, Wiggins served as the Deputy Director of Senate Campaigns at the Republican Party of Florida, where he previously spent three years working for House Campaigns.
Wiggins has worked on grassroots campaigns all over the United States as well as working statewide in Florida and working for both the executive and legislative branches of government. Andrew has a vast history of experience that ranges from working on Rudy Giuliani's mayoral campaign to working with U.S. Senate, congressional and for George W. Bush's presidential campaign. More recently, he has more than 25 years of experience helping elect candidates to the House and Senate across Florida.
Wiggins, a sixth generation Floridian, was born and raised in Jacksonville, Florida. He graduated from the University of Florida with a B.A. in History, as well as a M.A. in Political Science with a certificate in Political Campaigning. Andrew has two children, Katherine and Gavin.