2020 Powering On Session - Generation and Load Forecasting
Powering On Virtual Conference - A #KeepConnected Event
---
Thursday, August 13, 2020
10:30 AM - 12:00 PM (EDT)
FMEA Virtual Conference Session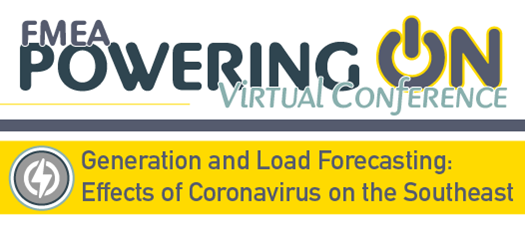 The current global pandemic has altered and disrupted many aspects of our lives—shutting down schools, businesses, social and travel plans. But how has the virus affected utilities across the country and specifically in the southeast? And what will the future hold?
Your utility is not alone in navigating these uncertainties. Mark Anderson and Kevin Galke of The Energy Authority will share their data and market analyses to illustrate COVID 19's impact on generation, load and natural gas, and will share insights on how the industry may look going forward.
Guest Presenters
As manager of portfolio analytics, Kevin Galke is responsible for leading a team of highly skilled analysts that collaborate closely with TEA's clients to improve operations, lower costs to their customers, and manage risk.
Kevin also oversees the creation and application of mathematical models and analytical tools that evaluate the full range of physical, financial, and derivative energy products and transactions for TEA.
Prior to working in the analytics department, Kevin served as an RTO resource specialist where he designed, implemented, and maintained industry best practices. During his tenure, he integrated several client utilities into dual-clearing markets.
Kevin earned a bachelor's degree in business administration and investment finance with university honors from the University of North Florida. He has also served as a member of SPP's Market Working Group since January 2015.
---
As a client services manager for TEA, Mark Anderson is responsible for managing the relationship between TEA's southeast clients, including JEA, Gainesville Regional Utilities, Lakeland Electric, Seminole Electric Cooperative and FMPA, and TEA staff by coordinating client deliverables, providing feedback and leadership to the team, collecting and disseminating market intelligence, and ensuring client needs are being addressed.
Mark has over a decade of experience in various roles within the energy industry as a trader and analyst. Mark joined TEA in May of 2018 after spending 13 years with Seminole Electric Cooperative, Inc. in Tampa, Florida. Mark was a senior trader with the company, specializing in the bilateral electric market and moving power across the SERC and the FRCC. He also focused on the company's resource planning, dedicating time to the Seminole community's solar interests and other fossil fuel power purchase agreements.
Mark received his bachelor's degree in economics from Union College in Schenectady, New York, and his master's degree in business administration from the William E. Simon School of Business at the University of Rochester with a concentration in entrepreneurship and public policy.