2020 Powering On Session - Protecting Your Organization from Fraud Threats
Powering On Virtual Conference - A #KeepConnected Event
---
FMEA Virtual Conference Session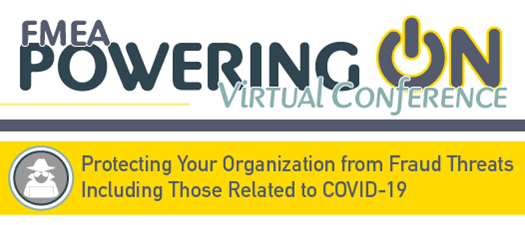 COVID-19 has changed the way in which businesses operate — fraudsters are adapting their techniques to capitalize on the confusion, distraction, and vulnerability created by the pandemic. Remote workforces, staff reductions, and a rapidly changing work environment expose organizations to more fraud risks than usual.
Are you prepared?
Guest Presenters
Karl Pfeil III is a Commercial Bank Market Leader and the National Head of Public Power within Wells Fargo's Government & Institutional Banking (GIB) including municipal and cooperative utilities. In this position, he manages a relationship team and supports them on all products and services as they relate to Public Power client needs including, customer service, treasury management, and credit underwriting. Karl's team also partners with Wells Fargo's Public Finance Public Power team to provide full service options to Public Power clients. Karl also provides insight on credit trends to public power and cooperative utilities across the U.S. helping them to understand current market issues that are important to the bank, rating agencies and investors.
Karl started at Wells Fargo in 2010, as the national Loan Team Manager (LTM) and lead the developed of Wells Fargo's underwriting criteria for Public Power and Cooperative Utilities. Prior to joining Wells Fargo, Karl was a Managing Director at Fitch Ratings and the head of the revenue backed and municipal structured finance departments within Fitch's public finance group. Karl specialized in public power, but also had responsibility for higher education, healthcare, tax-exempt housing and municipal structured finance. Prior to joining Fitch in 1996, Karl was an Assistant Vice President at AMBAC Indemnity Corporation. He earned a BS in finance from Rowan University and received an MPA from New York University.
---
Peter Pulos has the responsibility of guiding a team of treasury management consulting professionals within the Governmental sector throughout the Southeast region of the United States, along with Texas and Colorado. He assures a smooth consultative approach in treasury management product solutions and enhancements.
Pete is also responsible in strategizing product innovation development for our Governmental clients. Pete brings over two decades of banking and direct governmental experience to our clients. He previously served as a treasury services manager with J.P. Morgan Chase in their Governmental and Non-Profit line of business. Prior to that, Pete served as a finance manager for a "AAA" rated county in Wisconsin and also as a municipal treasurer in the Milwaukee metro-area.
Pete is an active member in the Association for Financial Professionals and the Government Finance Officers Association. He is a speaker at national public sector industry conferences and also teaches a certified municipal finance professional course. He has received his degree in Finance from the University of Wisconsin and is a Certified Treasury Professional.
---
Lynn Nieves is a member of Wells Fargo's Treasury Management & Payments Solution team, responsible for providing customized treasury consulting to government entities in Central, West Central, Panhandle and North Florida regions, including the State of Florida and its various agencies throughout the State. She is dedicated to helping these organizations implement and maintain efficient and cost-effective cash management programs while also keeping them abreast of new and enhanced treasury services and trends.
She has worked in Treasury Management serving government clients for over 23 years, and joined Wells Fargo in mid-2008 after 12 years at Bank of America.
Lynn has a B.S. in Marketing and a Masters in Business Administration from the University of Central Florida. She has been designated a Certified Treasury Professional (CTP) by the Association of Financial Professionals (AFP) and is a member of the Florida Government Finance Officers Association (FGFOA).
Lynn resides in Wesley Chapel with her husband Carlos and their two adorable basset hounds, Minnie Precious and Daisy Sunshine.