2020 Powering On Session - The Future of Public Power
Powering On Virtual Conference - A #KeepConnected Event
---
Monday, August 3, 2020
10:00 AM - 11:30 AM (EDT)
FMEA Virtual Conference Session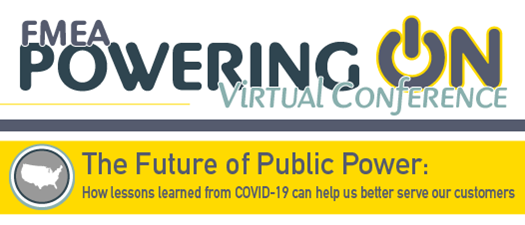 COVID-19, murder hornets, dust storms, hurricanes, what next?
2020 has been a challenging year thus far, not only for public power utilities, but also for our customers.
Now, more than ever, is a time for public power to shine by keeping the ventilators in the hospitals running and the computers and tablets at home offices\schools, powered. In this keynote, you will hear from APPA President and CEO, Joy Ditto, who will discuss lessons-learned from this challenging time and others in our history as we look to the future of public power.
Guest Presenter
Joy Ditto became the American Public Power Association's president and CEO on January 13, 2020. Before that, she was the president and CEO of the Utilities Technology Council, a global trade association representing electric, gas, and water utilities on their mission-critical information and communications technologies.
Before joining UTC, Joy was with the American Public Power Association for 15 years, rounding out her tenure as the senior vice president for legislative and political affairs.
Earlier, Joy spent seven years on Capitol Hill, as legislative assistant to two representatives from Pennsylvania — Joe McDade (R), and Don Sherwood (R) — and a senator from Nebraska, Chuck Hagel (R). She was a staff assistant to Senator John McCain (R-AZ) in her first job out of college. Joy advised her bosses on issues involving natural resources, agriculture, trade, tax, banking, the justice system, environment, and energy.
As a "Marine Corps brat," Joy learned early that relationships are key to success, as are a willingness to work hard and an ability to see both "the forest and the trees."
Joy is a graduate of Vanderbilt University with a BA in history and minor in political science and has received an executive certificate in nonprofit management from Georgetown University.
Joy is married with two daughters. She coaches youth soccer and is a competitive equestrian in the sport of eventing.