2020 Powering On Session - The Municipal Workforce 2020-2025
Powering On Virtual Conference - A #KeepConnected Event
---
FMEA Virtual Conference Session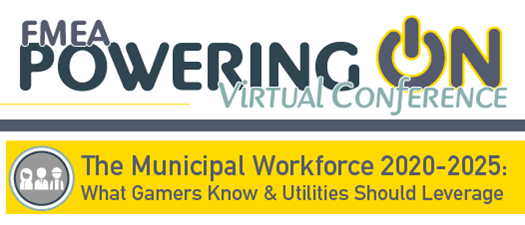 COVID-19, record-breaking unemployment, employee health and safety concerns, physical distancing vs. physical collaboration, increased costs and income uncertainty. Who would think that 2020 would be a great time for municipal agencies to attract top digital talent for the next 5 years?
From 2020 to 2025, 150 million workers under the age of 40 will take over the US workforce. Prior to COVID-19, municipal careers, especially utilities, weren't a preferred choice for most Millennials (or rising Gen Z talent). We weren't cool and they weren't coming. (Too many income options, too many corporations offering over-the-moon benefits to attract and retain them.)
In the spirit of Winston Churchill, who is reported to have stated, "Never let a good crisis go to waste," The Municipal Workforce 2020-2025: What Gamers Know & Utilities Should Leverage is a game plan session for municipal agencies, allowing you to leverage 2020 to your advantage.
Join us for this careening-around-the-corner-on-2-wheels, interactive and insightful 90 minutes with your fellow FMEA executives and managers. Leave knowing how to win top digital talent war with a 5-step action plan for the next 5 years!
You don't want to miss this one – as New York Power Authority, Austin Energy, and PMPA have a jump on you!
Guest Presenter
Janet Kieffer has a passion for municipal agencies – the result of over 25 years of consulting experience with the electric, gas and water side of the house.
Janet is an international Millennial workforce expert. Over the past 4 years, more than a thousand energy, utility and municipal professionals throughout the U.S. and Asia have attended her trainings and presentations – all seeking to understand how to attract and retain Millennial employees.
Attendees have included finance, engineering, customer service and operations professionals from JEA, OUC, Keys Energy, Kissimmee Utility Authority, City of Tallahassee and Fort Pierce Utilties.
A seasoned strategist with a keen ability to distinguish emerging issues and downstream consequences, Janet identifies the economic, cultural and workplace challenges the Millennial generation present – along with actionable steps to win the war for digital talent.
Her insights have been sought after by the American Public Power Association (APPA), Electric Utility Consulting Inc. (EUCI), Energy1 | Petro1 Asia and companies such as Petronas Energy, Schneider Electric, Centrica, Black & Veatch, Burns & McDonald and others.
Janet has authored two IEEE patents and has contributed more than 35 articles to industry publications. She holds a MA in Marketing with a specialization in Growth Strategy from the University of California, Berkeley.
Session Agenda
SECTION ONE: What Gamers Know
25 Minutes with Q&A
5 Minute Break
SECTION TWO: The Cost of a Pickup Truck a Day Going Off a Cliff
25 Minutes with Q&A
5 Minute Break
SECTION THREE: 5 Actions To Attract Digital Talent
25 Minutes
5 Minutes – Offer & Follow Up
Learning Outcomes
A "Holy Geezus!' understanding of the issues FMEA members face in attracting Millennial and Gen Z, employees over the next 5 years

A tangible understanding of the costs of hiring, training, retaining and attrition of a workforce with many, many income options

5 Actions that FMEA members must take in Q3 & Q4 to position themselves as Employers of Choice in Florida