Lakeland Electric Utility
501 East Lemon Street Lakeland, FL 33801
Utility Sponsor
Member Since: 1942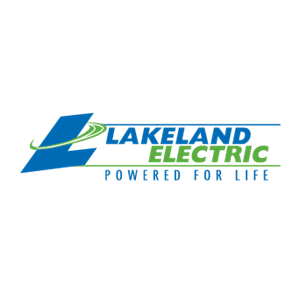 Organization Overview
For over a century, Lakeland Electric has powered our community through sunny days, cold fronts, and damaging hurricanes. We are proud to be your public power utility, and we are committed to our mission to safely provide our customers with Affordable, Dependable and Sustainable electric services.

As a public power utility, we are one of over 2,000 cities in the United States providing power to over 49 million people, proving that public power benefits are recognized beyond our own community. For our customers, the benefits are many. Lakeland Electric customers benefit by having some of the lowest electric rates in the state of Florida. They have easy access to those who oversee the utility and can make their voices heard. We hear and learn from you at city commission meetings, advisory panels, customer forums, and community events throughout the year. This local focus distinguishes us from some other utilities and brings the benefits back to you.

Lakeland Electric's future is bright with a solid strategy, strong credit rating, dependable power production, and advanced technology to drive continued efficiency and reliability. We are looking forward to serving you far into the future.