Communications Specialist - FMEA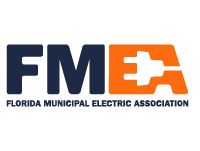 The Florida Municipal Electric Association's Communications Specialist requires a bachelor's degree or higher in communications, marketing or an equivalent combination of education and experience.
This position researches and compiles industry-related news, lays out a weekly email newsletter, and distributes it to FMEA association members. The Communications Specialist manages and creates content for association social media accounts. The position assists in and coordinates messaging, toolkits, and talking points from research through execution. The position works closely with the Executive Director, Director of Public Affairs and Strategic Communications, and Creative Director to positively promote FMEA's image and initiatives and provide support to FMEA association members to promote public power in their communities. Ability to research, write in-depth articles, copy edit, produce engaging content and work collaboratively is a must.
About FMEA: The Florida Municipal Electric Association (FMEA) represents the unified interests of Florida's 33 public power communities. FMEA is the statewide trade association and voice for Florida's municipal electric utilities.
FMEA provides its members with government relations, mutual aid coordination, communications, education, and networking opportunities. The association is at the forefront of energy industry news and trends and supports its member utilities by promoting public power and delivering superior services through advocacy, mutual aid, education, and collaboration.
To view complete description and to apply
visit here
.