Electric Engineer I - Ocala Electric Utility
Date posted
April 24, 2023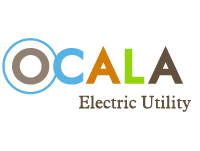 Description
This is engineering work of various responsibilities, relating to electric transmission and distribution design, operation, and maintenance of the overall electric system. Some duties are recurring with various frequency, and other duties are project-based depending on the needs of the utility and customers at any given time.
Examples of Duties
1. Designs projects for 1-phase & 3-phase distribution services, small subdivisions, and commercial areas; including all calculations, CAD drawings, material selection, work order creation, permitting, and other engineering tasks associated with those projects, in full compliance with the National Electric Safety Code. Works directly with Electric Engineering Technicians. This duty is performed daily.
2. Responsible for engineering (subject matter expert) relating to all utility-related lighting, including but not limited to photometric analysis, materials evaluation/selection/application, oversight of FDOT lighting maintenance program, and analysis & updating of the utility's lighting-related rate tariffs. This duty is performed weekly.
3. Responsible for managing (subject matter expert) the utility's Pole Attachment Agreement(s) with all approved communication utilities, including but not limited to permit processing, pole loading analysis, calculation of make-ready costs, annual attachment billings, pole attachment audits, and contract negotiations. This duty is performed weekly.
4. Researches and gathers information for load studies, site plans, road construction projects, and other information related to the operation and maintenance of the transmission and distribution system. This duty is performed weekly.
5. Provides AutoCAD (subject matter expert) support, for technicians and other electric utility personnel, as needed. This duty is performed weekly.
6. Investigates outages (with cause analysis), low/high/erratic voltage reports, and technical customer complaints. This duty is performed monthly.
7. Provides appropriate specifications, standards, engineering details, and scope of work input for various purchasing bids for materials and services. Evaluates vendor bids using material standards and specifications and makes recommendations for approval. This duty is performed monthly.
8. Assists with maintenance of utility's materials and construction standards and specifications for material used on the distribution system. Researches new material options for implementation consideration. This duty is performed monthly.
9. Furnishes technical engineering direction and information to customers, electricians, builders and developers and other inter-City departments. This duty is performed weekly.
10. Communicates clearly and politely with customers, other utility divisions, and other city departments, through professional and grammatically correct written correspondence and oral interactions. This duty is performed daily.
11. This position has field support responsibilities during major restoration events, and will be required to work in potentially harsh weather and terrain environments for up to 16 hours per day, with mandatory report-to-work responsibility. Must remain locally present during hurricane or other major disaster events (cannot evacuate). This duty is performed irregularly.
Perform any other related duties as required or assigned.
To view complete description and to apply
visit here
.