Florida Municipal Electric Association Recognizes Members of the Public Power Community with Awards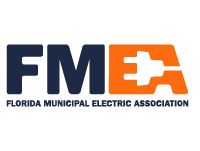 At the Florida Municipal Electric Association (FMEA) annual conference banquet in Naples, the association recognized members of the Florida public power community with four awards: Member of the Year, Associate Member of the Year, Past Presidents Award and Lifetime Achievement Award.
"With the pandemic changing so many things so dramatically and so quickly, it has never been more evident that public power is strong, adaptable and there for our customers, employees and each other. This year's award recipients not only shine for going above and beyond in a most difficult year, but for their ongoing commitment to the advancement of public power in Florida," said Amy Zubaly, FMEA Executive Director. "We are so thankful to have these public power champions on our side and are pleased to recognize them for all of their efforts on behalf of our association and our communities."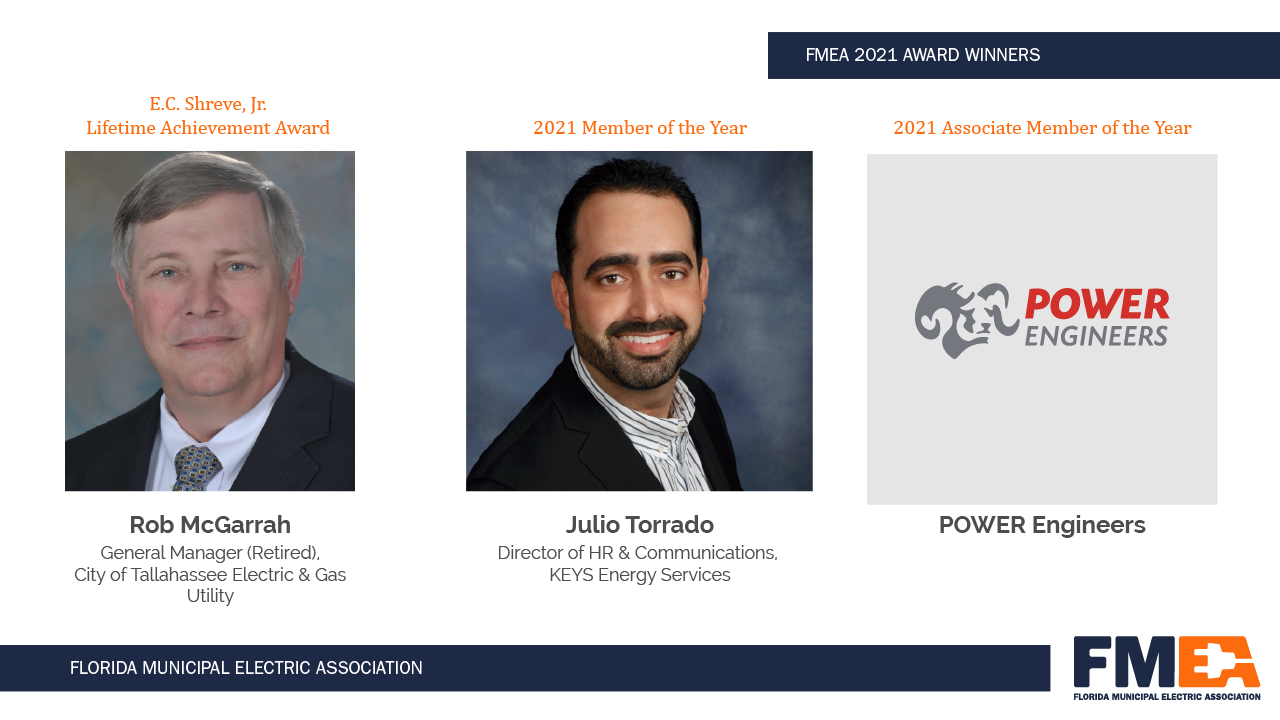 For the first time since 2018, FMEA presented the E.C. Shreve, Jr. Lifetime Achievement Award to Rob McGarrah, retired general manager of the City of Tallahassee electric and gas utility. The prestigious Lifetime Achievement Award is a high honor awarded to an individual who has devoted a significant part of their career to the advancement of public power in Florida. Prior to McGarrah, FMEA bestowed Lifetime Achievement on only six members since 2001. In addition, McGarrah was designated by the FMEA Board of Directors as an Honorary Member.
McGarrah has nearly four decades of experience in the electric utility industry and has spent the last 30 of those years with the City of Tallahassee electric utility. He became the utility's general manager in 2011. He has been an ardent supporter of FMEA and Florida public power, serving on FMEA's Board of Directors, numerous committees and working groups, and on FMEA's Executive Committee as secretary-treasurer and vice president. In addition, he is a past Board Chair for the Florida Reliability Coordinating Council and served on the Board of Directors for SERC.
The 2021 FMEA Member of the Year award was presented to Julio Torrado, Director of Human Resources & Communications for Keys Energy Services in Key West. The Member of the Year award is given to an individual or group within a FMEA member utility who exemplifies extraordinary service and dedication to FMEA and Florida public power.
Torrado is currently the chair of the FMEA Florida Public Power Communicators Committee and a founding member of FMEA's Diversity in Florida Public Power interest group. He is active with the American Public Power Association, having served on the national association's Public Communications Committee, Human Resources Committee and Energy Services Committee. He has also represented public power at various local, state and national conferences.
The 2021 Associate Member of the Year was awarded to POWER Engineers, a leading consulting engineering firm offering a broad range of services to the energy industry for power generation, environmental services, and transmission and distribution. The FMEA Associate Member of the Year award recognizes an associate member who exemplifies extraordinary service and dedication to FMEA and Florida's public power community.
POWER Engineers originally joined FMEA as an Associate Member in 2011 and has since consistently supported Florida public power and FMEA as an event sponsor for annual conference, the Energy Connections Conference and Tradeshow and the 2020 Powering On virtual conference, offered in lieu of an in-person conference due to the pandemic. POWER Engineers is also a founding sponsor of FMEA's diversity, equity, and inclusion (DEI) initiative, Diversity in Florida Public Power.
Also recognized with a Past Presidents Award was Allen Putnam, director of Beaches Energy Services, providing power to more than 35,000 customers in Jacksonville Beach, Neptune Beach, Ponte Vedra and Palm Valley. Putnam served as FMEA president from December 2019 through July 2021, and previously served FMEA as president-elect, vice president, and secretary-treasurer.