JEA Announces Key Leadership Team Hires with New COO and VP of Financial Services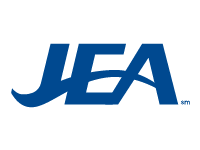 JEA announced the next phase of its leadership team changes with the appointment of a chief operating officer and vice president of financial services.
Raynetta Curry Marshall, JEA's former director of Water/Wastewater Planning & Development, returns to the company as chief operating officer.
This announcement follows the recent news of Ted B. Phillips, of Huntsville, Ala., being named chief financial officer. Phillips and Marshall will join five other leaders who report to JEA Managing Director and CEO Jay Stowe. The direct reports include Chief Administrative Officer Jody Brooks, Chief Human Resources Officer David Emanuel, Chief Customer Officer Sheila Pressley and Chief Strategy Officer Laura Dutton. The Chief External Affairs Officer position is the one remaining leadership role that has yet to be filled; the recruitment process is under way.
JEA also named Joseph E. Orfano vice president of Financial Services. He has served in an interim capacity in this role since February 2020. Orfano will report to Phillips and oversee all financial affairs, including financial reporting, treasury, rates, financial planning, budgeting and insurance.
"I'm pleased to have Raynetta back and to have Joe as our permanent VP of Financial Services. Both of them have provided strong leadership at JEA and have proven time and time again that they are highly skilled and unmatched in what they do," Stowe said. "I'm proud of the team that is helping to make JEA the best utility in the country."
Marshall has more than 35 years of experience in the water, wastewater and utilities industry in Florida, Maryland and Virginia. In her new role, she will have oversight of JEA's electric, water and wastewater systems.
For the past two years, Marshall was general manager for the City of Tallahassee's Underground Utilities & Public Infrastructure Department. Her responsibilities included water supply and quality, wastewater collection and treatment, stormwater management, water utilities, traffic management engineering and management and transfer of the city's real estate assets.
Previously, Marshall served in several leadership roles at JEA from 2011-19, including director of Water/Wastewater, Planning & Development and director of Water/Wastewater Project Engineering & Construction.
Marshall is a registered Professional Engineer in Florida. She received her Master's in Environmental Engineering and Bachelor's in Civil Engineering from Howard University.
Marshall will assume her new position on Aug. 30, 2021, and will earn an annual salary of $350,000.
Orfano, who previously served as JEA's treasurer and interim chief financial officer, has worked with JEA since 2013. He currently serves on the Finance and Audit Committee of The Energy Authority. Prior to joining JEA, Orfano was Director of Treasury at a mining company in Scottsdale, Ariz. He has more than 20 years of experience in electric utility companies. He holds a B.B.A. in Finance from the University of Notre Dame.
Orfano will earn $200,012 effective July 15, 2021.