Justices Stand Behind Duke Costs Ruling
Date posted
August 26, 2022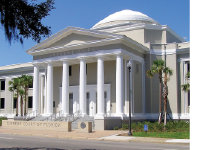 The Florida Supreme Court on Thursday refused to reconsider a ruling that backed Duke Energy Florida in a dispute about whether it should have been able to collect about $16 million from customers after problems at the utility's Bartow power plant in St. Petersburg. The court on July 7 unanimously overturned a decision by the Florida Public Service Commission that rejected Duke's request for the money. But the state Office of Public Counsel, which represents consumers in utility issues, and the Florida Industrial Power Users Group, which represents large commercial customers, filed a motion July 22 asking for a rehearing. The motion contended that the court "overlooked facts of record and misapprehended the standard of review applicable to administrative final orders as established by the Legislature in (a section of state law) and long-standing judicial precedent." But without explanation, the Supreme Court on Thursday denied the request for a rehearing.
The case, at least in part, involved allegations that Duke's predecessor, Progress Energy Florida, operated a turbine at the plant beyond its capacity, leading to later problems that forced a 2017 outage. After the plant came back online, it operated at a reduced capacity. The dispute was over the utility recouping what are known as "replacement power" costs for other sources of electricity. The Supreme Court's July ruling, written by Justice Alan Lawson, sent the case back to the Public Service Commission to enter an order granting the cost recovery.
Article reposted with permission from The News Service of Florida.