OUC and City of Orlando Launch First-of-Its-Kind Electrified Dealer Program
Date posted
October 2, 2020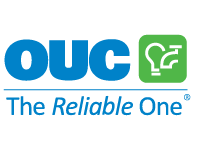 As part of National Drive Electric Week, OUC – The Reliable One, in partnership with the City of Orlando and Electrification Coalition, is launching an Electrified Dealers Program that's focused on expanding consumer adoption of electric vehicles (EV) in Central Florida. Through direct engagement with dealers – and by offering rebates – OUC seeks to improve the purchasing experience and reduce barriers to EV ownership.
As a critical part of its strategic plan, OUC is committed to achieving net-zero carbon emissions by 2050, with interim targets of 50% carbon emissions reduction by 2030 and 75% by 2040 from 2005 levels. EVs play a critical role in meeting those milestones, and as this market continues to expand in the region, OUC is working to ensure dealers will be ready to meet demand.
Car dealerships' sales staffs will receive incentives for selling EVs, a notable first for dealerships in the region. Customers will continue to have access to OUC purchasing rebates, as well as EV educational content.
"Electric vehicles (EV) are gaining traction and becoming more common on our roads but for some buyers there can be myths or misconceptions to overcome, and who better to help educate customers than car dealers," said Linda Ferrone, Chief Customer and Marketing Officer for OUC. "We believe these vehicles will be a major part of Central Florida's transportation future, and we're proud to partner with the City of Orlando and the Electrification Coalition to launch a program that supports the adoption of a greener region."
The Electrified Dealer Program builds upon previous EV initiatives and programming by OUC, including the Consumer EV Rebate Program and Charge-It Commercial EV Charging Service. Through those efforts, EV adoption and available public charging infrastructure grew markedly, making Orlando one of the "Top 10 Most EV-ready Cities" in the nation. Additionally, Orange County was recognized as a "Top Tier" performer in the League of Women Voters of Florida Summer 2020 EV Report Card, thanks in part to OUC's leadership in electrification. OUC anticipates having nearly 300 EV chargers in its service territory by the first quarter of 2021, including a new 22-port EV charging hub slated for installation on Robinson Street near I-4 in downtown Orlando.
OUC's Electrified Dealer Program began October 1, 2020, with a goal to bring 500 new EVs to area roads by next fall. Participating dealerships will be required to meet a variety of conditions to ensure the best-possible EV customer experience, including availability of on-site charging, participation in EV customer engagement training by OUC EV Specialists, and involvement in active media promotion of EV options to customers.