OUC to Contribute $12.1 Million to Help Community Through COVID-19 Crisis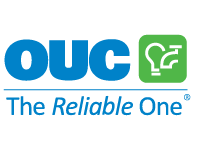 May Bills to Drop, Assistance Programs Offered for Those Most in Need
OUC's Board of Commissioners is scheduled to vote next week on far-reaching recommendations to help OUC customers and the Central Florida community impacted by the COVID-19 crisis. The proposal offers immediate relief by lowering utility bills and provides additional solutions to customers over the next year.
The recommendations include:
$7.5 million to lower electric fuel rates for May bills by 39%, representing a 11.4% overall decrease for residential customers and 11.2% to 19.7% reduction for commercial customers
$2.6 million contribution to Project CARE, in partnership with the City of Orlando, OUC's utility assistance program for qualified residential customers which includes an allocation up to $100,000 as a 2 for 1 match of customer donations to Project CARE
$1.5 million for utility bill payment assistance to qualified small businesses
$500,000 for new OUC Power Pass customers
Continuation of OUC's notices, announced in mid-March, to suspend electric and water disconnections for nonpayment and waive late payment fees until further notice
Payment plans and deferred payment arrangements for customers for up to 12 months depending on qualifying criteria
"As the hometown utility, we are committed to doing the right thing by helping our community get through this tough time," said Clint Bullock, OUC General Manager & CEO. "We believe this multifaceted approach will bring relief to customers now and in the months ahead."
OUC will pass to customers fuel savings from lower-than-budgeted natural gas prices. This will allow $7.5 million to offset the fuel charge portion of customer bills by about 39% in May. That equates to about an 11.4% overall savings, or $12.50, for the average residential customer using 1,000 kWh per month; 11.2%, or $18.75, for small commercial customers using a 1,500 kWh non-demand rate per month.
OUC also plans to contribute $2.6 million to Project CARE, an OUC utility bill assistance fund supported by OUC, its employees and customers. The fund is administered through the Heart of Florida United Way's 211 program. Since 1994, OUC, its employees and customers have contributed more than $6 million through a process where OUC matches donations 2 to 1 and provides lump sum contributions during times of crisis such as 9/11,the 2008/2009 economic downturn, and the current COVID-19 pandemic.
The City of Orlando, for which OUC provides billing services, has offered to offset some of those payments to assist these efforts. "It is imperative that the City of Orlando and OUC continue their long partnership to help residents and customers who desperately need our help during this time of crisis," said Buddy Dyer, Orlando Mayor and OUC board member.
Exact criteria for the proposed $1.5 million small commercial customer support is still being determined in collaboration with community partners in an effort to ensure it enhances other programs and reaches as many customers as possible. OUC will provide more information in the next few weeks, with the goal of launching this aid in early May.
As part of our effort to provide innovative solutions, an amount of $500,000 will be used to waive the first monthly customer charge for new customers enrolling in OUC's Power Pass program, which allows customers to prepay for utility services. Because OUC anticipates that customers will experience larger bills as temperatures increase, customers who choose to enroll will have their service deposit applied to their account and can pay down their remaining balance incrementally as they go.