OUC's Clint Bullock Named to 'Florida 500' for Fourth Consecutive Year
Date posted
November 30, 2022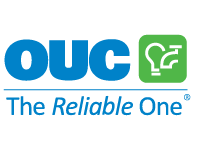 Clint Bullock, OUC's General Manager & CEO, has been named to Florida Trend's "Florida 500" list in the Energy category for the fourth consecutive year. Compiled annually by the business magazine's editors, the special section highlights the 500 most influential business leaders in different economic sectors throughout the state. Bullock is one of 10 utility executives selected to this prestigious list.
"This is a total OUC team recognition," said Bullock. "It is truly an honor to have been chosen for the fourth time and to be among such a diverse group of leaders."
An Orlando native who joined OUC in 1989, Bullock was named General Manager & CEO in 2018. In 2020, he announced that OUC was committed to increasing its use of renewable energy and reaching net zero carbon emissions by 2050, with interim reduction goals of 50% by 2030 and 75% by 2040.
Among Bullock's recent leadership successes is OUC's preparation for and recovery from Hurricane Ian. Less than 48 hours after the massive storm passed through Central Florida, crews had restored power to 93% of the customers who had lost it. And just a day after Hurricane Nicole struck, OUC restored power to all impacted customers.
Bullock has made employee health and safety a top priority, leading OUC to be named in 2022 as one of the "Healthiest Employers" in Central Florida by the Orlando Business Journal and included on the "Healthiest 100 Workplaces in America" list compiled by Healthiest Employers®.
With Bullock at the helm, OUC earned recognition in 2020 and 2022 as a "Most Trusted Brand" among U.S. energy providers, according to national customer surveys conducted by Escalent. OUC garnered the highest customer satisfaction scores among electric utilities in both years. Additionally, for the fourth consecutive year, OUC has been named a "SunRiser" by the Southern Alliance for Clean Energy. Also OUC earned the top scores in Florida on the Sierra Club's 2021 and 2022 Clean Energy Report Cards.
Bullock holds an MBA from Rollins College and a bachelor's in business administration from the University of Central Florida.