Town Clerk - Town of Havana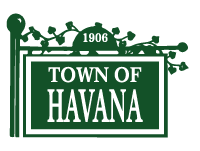 POSITION DESCRIPTION
The Town Clerk is one of four Charter Official Positions and is appointed by the Town Manager with the approval of the Town Council. The Town Clerk reports directly to the Town Manager. This administrative position is responsible for recording the actions and maintaining the official records of the Town of Havana and other duties per the Town Charter and as assigned by the Town Manager.
RESPONSIBILITIES
Serves as Town Clerk to the Town Council and Town Manager. Coordinates all aspects of preparing and distributing the Council agenda and attends all regular and special Town Council meetings and workshops, many of which are held in the evening hours; oversees or performs an accurate recording of the proceedings, preparation of the minutes, proper legislative terminology, recording, indexing and filing for the public record; distributes information as requested. Serves as the Records Custodian for the Town; maintains Towns Official Records including organization, retention, and disposal, responds to public records requests. Maintains official Minutes Book and Ordinance Register. Supervises all elements of Town elections in conjunction with the Gadsden County Supervisor of Elections and qualifies all candidates for election as required by law. Posts and/or advertises meeting agendas, bid and other advertisements and legal notices of public hearings and special meetings in accordance with State of Florida Sunshine Laws. Retains copies of said notices. Prepares reports for Commission Meetings. Coordinates codification of Ordinances process. Accepts incoming documents, plans and applications on behalf of Zoning Department and provides notification to residents of status after review. Prepares and maintains records of all Committee/Board appointments. Monitors financial disclosure statements, Town Council appointment process, and conflict of interest statements. Administers oath of office to public officials; serves as a notary public. Ensures deeds for Town purchased properties are submitted to the Property Appraiser's Office for tax exempt status. Reviews finance transactions to ensure compliance with GAAP / GASB requirements and any regulatory statutes. Provides support and oversight for finance functions. Updates and maintains information on the Town of Havana web page. Supervises clerical staff, manages human resources functions and provides finance support as needed. Administers and manages Town's drug testing program. Coordinates onboarding and discontinuation of employment for all town staff. All other duties as assigned.
To view complete description and to apply
visit here
.