2023 Power Line Design and Staking Certification Program Level 1
Utility Training Services Workshop
---
Tuesday, June 6, 2023
at
8:30 AM (EDT)
to Thursday, June 8, 2023 at 4:30 PM (EDT)
Category: Training Workshops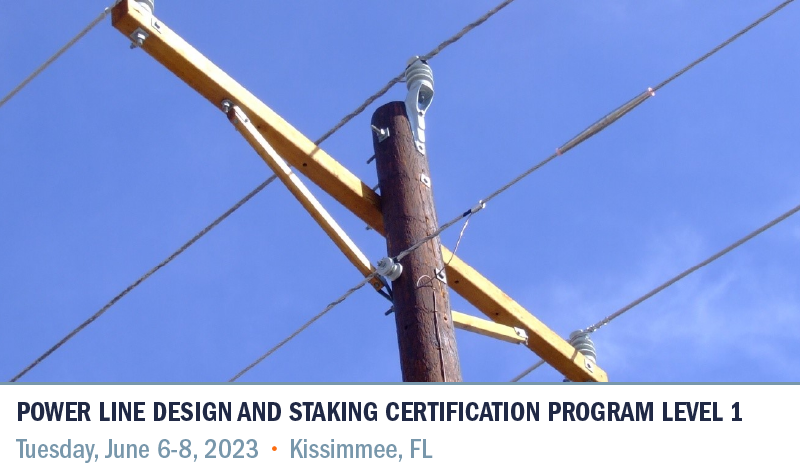 Code of Conduct | Cancellation Policy
---
About the Course
This three-day level 1 class guides students through the basic engineering of overhead single-phase lines typically expected of beginning line design personnel.
After completion of this course, participants will be able to complete overhead transformer and service conductor sizing, calculate accurate guy leads for both angle and dead end situations, interpret and implement sag charts in clearance design, and navigate the NESC in order to locate important rules and tables necessary for safe design.
Course manual provided. Students need to bring a copy of the current NESC to class (not included in course materials).
---
About the Instructor
Clint's experience in the electric utility sector currently spans a period of 28+ years with work in cooperative, municipal and IOU organizations. Among his most significant assignments in the utility industry are:
Business Owner and Partner at Reliance Energy Consulting (17 yrs)
Instruction (both full and part time) in Line Design and Staking with Utility Training Services (11 yrs)
System Engineer (3 yrs) and as Manager of Engineering (4 yrs) at Cherokee Electric Cooperative in AL
Distribution Engineer for Coastal EMC in GA (3 years)
Consultant and Instructor with Power Delivery Associates in GA (2 yrs)
Clint is married and has two adult children. He and his wife, Wendy, manage the consulting firm as partners and, along with his daughter, operate the business on a daily basis. His son, Joshua, having worked with Clint in the industry during his teen years, now works for Huntsville Utilities in AL. Clint served 8 years in the Army National Guard as a Combat Engineer. He enjoys music, travel and ministry.
UTS is pleased to have Clint as a member of our training team, developing and delivering courses for UTS, nationwide.
---
Who should attend?
Engineer Technicians
Engineers
Stakers
Journeyman Lineman
Line Construction Personnel
Design Engineers
---
Registration Information:
Registration Deadline: June 3, 2023
Registration Fee: $1,500 per person for FMEA Members
Lunch included
For More Information: