Florida Lineman Competition and Safety Awards Winners Announced at Annual FMEA Awards Banquet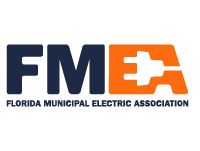 This evening, the Florida Municipal Electric Association (FMEA) recognized excellence in Florida public power at an awards banquet where the winners of the Florida Lineman Competition and recipients of the FMEA Safety Awards were announced. The banquet concluded the 2023 Florida Lineman Competition in Orlando.
Florida Lineman Competition
The annual Florida Lineman Competition brings electric lineworkers from all over the state together to demonstrate their skill and knowledge in the craft of line work. Competitors took on various challenges such as replacing crossarms and insulators on utility poles, replacing blown arrestors, crossing poles and completing a simulation of rescuing injured lineworkers. Competitors earned points for completing the tasks as quickly as possible and lost points if safety standards and proper work practices were not followed. Journeyman teams, which included at least one lineworker who has been in the industry for five years or more, are made up of three lineworkers. Apprentices, or lineworkers in training, competed individually.
The 2023 Overall Journeyman Team Winners Cup was presented to Blake Burns, Mike Patterson and Mike Gramling of the City of Tallahassee. Winning the Overall Apprentice Award was Ryan Kornegay from JEA. This year, 22 journeyman teams (totaling 70 journeyman competitors), 77 apprentices, and 49 judges from 12 utilities participated.
Safety Awards
FMEA recognizes and rewards safe operations through its annual Safety Awards. Utilities are placed into categories based on their total worker hours and rewarded for the most incident-free records. The incidence rate used to judge utilities was based on the number of work-related reportable injuries or illnesses compared to the total number of worker hours during 2022, as defined by the Occupational Safety and Health Administration (OSHA).
A total of 13 utilities received a Safety Award in their category, including:
Category A (0-59,999 man-hours):
City of Alachua – Perfect Record
City of Blountstown – Perfect Record
City of Bushnell – Perfect Record
City of Winter Park Electric Utility – Perfect Record
Category B (60,000-199,999 man-hours):
Ocala Electric Utility –1st place
City of Homestead – 2nd place
Fort Pierce Utilities Authority – 3rd place
Category C (200,000-399,999 man-hours):
Keys Energy Services – Perfect Record
Category D (400,000-949,999 man-hours):
Gainesville Regional Utilities – 1st place
City of Tallahassee – 2nd place
Kissimmee Utility Authority – 3rd place
Category E (950,000-2,499,999 man-hours):
Orlando Utilities Commission – Special Recognition
Category F (2,500,000-greater man-hours):
JEA – Special Recognition
Florida's public power utilities are locally owned, locally controlled and locally operated, enabling them to quickly respond to the needs of their communities. They are also among some of the most reliable power providers in the state. For more information on FMEA and Florida's public power communities, please visit www.flpublicpower.com.