FPUA Prepares for High Impact Winds and Rain from Tropical Storm Nicole
Date posted
November 8, 2022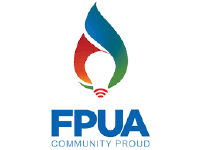 As Tropical Storm Nicole approaches Florida's shores, Fort Pierce Utilities Authority (FPUA) is taking steps to ensure the quick and safe restoration of any services impacted by the hurricane-force winds and rain. For the safety of employees and customers, FPUA's Customer Service Lobby will be closed beginning 3pm Tuesday, November 8th through Thursday, November 11th. The lobby is also closed Friday in honor of Veteran's Day.
"We know that our customers rely on us and we are committed to taking every possible step to ensure quick and safe restoration of any services impacted by this storm," said Javier Cisneros, FPUA's Director of Utilities. FPUA activated its storm response plan on Monday afternoon. All vital equipment, facilities, and plants have been secured in preparations for the severe weather.
High impact winds can cause scattered power and communications outages. Tropical Storm Nicole has the potential to bring damaging winds, heavy rains, storm surge, and flooding to Fort Pierce. The National Weather Service has issued a Hurricane Warning for Fort Pierce which indicates potential for winds from 74 to 110 miles per hour.
FPUA is prepositioning staff to respond to customer inquiries and restore utilities as quickly and safely as possible, as the weather conditions permit. During the storm, FPUA will track and report outages on our FPUA Outage Map which customers can access at www.FPUA.com/OutageMap. Immediately following the storm, once winds drop below 35 miles per hour, FPUA's field crews will continue utility restorations and damage assessments.
Visit www.FPUA.com/StormCenter/ for more storm tips and links. Please call FPUA's emergency number at 772-466-7703 in the event of any of the following:
If you smell gas evacuate immediately and call FPUA's emergency phone number.
Report broken sewer or water lines to FPUA's emergency number.
Don't touch loose or dangling wires. Call FPUA's emergency number to report damage to utility lines or poles.