It's a Solar-bration: KUA Unveils Solar Energy Education Trailer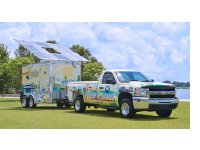 Kissimmee Utility Authority has unveiled a solar energy demonstration trailer to educate utility customers and students on solar energy production and battery storage, as well as energy conservation measures.
Dubbed the "SunCatcher," the towable trailer features an expanding solar array of 14 photovoltaic panels totaling 1.6 kilowatts (kW), a 6.8 kW pure sine multi power inverter/charger, and a 5,280 watt-hour storage battery system. The trailer also features a backup generator and two Level-1 electric vehicle charging stations.
During its soft launch, the trailer has been used at schools, community events and homeowner association meetings. Most recently, it was used for cell phone charging and back-up stage power for the Florida Solar Energy Center's annual EnergyWhiz expo in the neighboring city of Cocoa.
When the trailer is not in use, it connects to the utility's electrical grid and generates power back to the grid during sunlight hours. The SunCatcher can also be used to power emergency relief activities following a hurricane or natural disaster.
"This solar trailer brings the sun's power to life and serves as a portable classroom for our community," said Susan Postans, KUA's vice president of customer service. "We're proud to be able to educate both children and adults through this unique educational display."
The SunCatcher was developed using a repurposed truck and utility trailer which were no longer in use. The exterior design of the vehicles feature many of Kissimmee's historical buildings and landmarks.
Video: https://youtu.be/KmgcQCacPYY