Florida Public Power Utilities Snap Demand Records with Hot Weather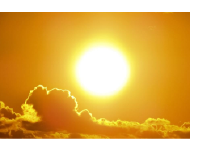 Florida public power utilities Kissimmee Utility Authority and Orlando Utilities Commission reported that they set new power demand records this week with the arrival of soaring temperatures in the state.
With temperatures soaring into the high 90s, a new all-time electric demand was set by OUC customers on Monday, June 24 at 5:04 p.m., the most power ever used at one moment in OUC's 96-year history.
Air conditioners working to cool homes and offices pushed demand by OUC customers in Orlando up to 1,233 megawatts.
OUC's previous all-time power peak for Orlando of 1,221 MW was set in August 2016.
The utility, which also serves the City of St. Cloud, Fla., saw a new all-time peak for that section of its service area Monday. Usage in St. Cloud came in at 200 MW.
"While OUC has adequate generating capacity, customers concerned about their electric bills should keep an eye on both their thermostat and their electric usage," OUC said in a news release.
Meanwhile, Kissimmee Utility Authority on June 24 said that for the second time in a month, Kissimmee residents set a new all-time record for electricity use.
Kissimmee Utility Authority recorded an instantaneous system peak of 388.8 MW at 4:37 p.m. Monday, eclipsing the previous record of 380.8 MW set on May 28.
Monday's above-normal temperatures combined with high humidity created a heat index of 103 degrees (as reported by Kissimmee Gateway Airport), forcing air conditioners to work overtime, the public power utility reported.
Article reposted with permission from Public Power Daily.