KUA Earns High Scores in Customer Satisfaction Survey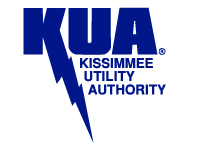 Excellent reliability, knowledgeable employees and concern for customer safety helped Kissimmee Utility Authority increase overall customer satisfaction in 2019, according to the results of a survey released Thursday by the utility.
The 61-question survey, conducted by telephone by Cromwell, Connecticut-based research firm GreatBlue Research, Inc., measured customer satisfaction by examining five key factors: customer service, corporate leadership, communications, billing and payment and reliability.
Across eight organizational characteristics measured in 2019, KUA received positive ratings from 88.5% of residential customers, which marks an increase over 84.2% in 2018. KUA received positive ratings from 89.4% of commercial customers, compared to 88.6% in 2018.
Across five characteristics regarding KUA's corporate leadership, the highest average rating among commercial customers was "level of involvement in the community" (9.30), while residential customers provided the highest average rating for KUA's "honesty in conducting its business affairs" (9.02). In addition, commercial customers rated corporate leadership higher in each of the five characteristics compared to their residential counterparts.
Customers gave particularly high ratings to the courtesy and knowledge of the utility's customer service representatives. They also praised the commitment of KUA employees to ethical business practices and the utility's ongoing protection of the environment.
When compared to GreatBlue's database of national public power customers, KUA's ratings were higher than ratings given by public power customers nationwide and in Florida. This was driven by increases in seven of eight characteristics, including strong increases in the areas of "being open and honest about company operations and policies" (+7.2 percentage points), "maintaining modern and reliable infrastructure" (+5.8 percentage points) and "responding promptly to customers questions and complaints" (+5.8 percentage points).
"Every day brings a new opportunity to continue to work hard on behalf of our customers," said KUA president and general manager Brian Horton. "These survey results reaffirm that we are delivering on our commitment to maintain the highest customer satisfaction possible while continuing to improve their overall experience."