Ocala Electric Utility Celebrates Public Power Week
Date posted
September 26, 2023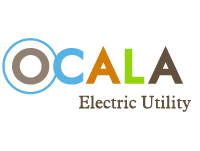 Ocala Electric Utility (OEU) is celebrating Public Power Week, Oct. 1 – 7, along with more than 2,000 other community-powered, not-for-profit electric utilities that operate in the United States.
Boasting a 125-year history as a locally owned and operated utility, OEU remains committed to its original mission of providing dependable, cost-effective, and secure power to its customers. This dedication to service is evident in the support of the community's current and former employees, customers, and leadership. OEU strives to create a sustainable future while delivering customer-centric service to the community. Working closely with customers and community leaders ensures the utility aligns with the long-term goals and needs of the community.
OEU manages 21 substations that cover a 160-square-mile area, serving over 54,000 households and businesses within Ocala and surrounding Marion County. Employees maintain over 1,202 miles of power lines and 47,786 power poles to ensure uninterrupted and dependable service to the community.
OEU invites all members of the community to Customer Appreciation Day, Friday, Oct. 6, 6 to 8 p.m. at Citizens' Circle, 151 SE Osceola Ave. The event will commemorate Public Power Week and is free and open to the public.
After the event, join the Ocala Recreation and Parks Department for 'After Dark in the Park.' This family-friendly event will feature the movie 'Hotel Transylvania' on the outdoor movie screen at Citizens' Circle, 7:30 to 9 p.m. This event is free and open to the public. Attendees are encouraged to bring their own lawn chairs and blankets.
For more information and to see other Public Power Week festivities, follow OEU on social media at Facebook and X (formerly Twitter).