OUC Announces New Strategic Plan including Net-Zero Carbon Emissions by 2050
Date posted
February 21, 2020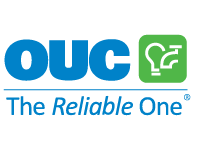 50% Reduction in CO2 by 2030
The Orlando Utilities Commission (OUC – The Reliable One) announced a new strategic plan for 2025 that includes a commitment to achieve net-zero carbon emissions by 2050, and a goal to reduce carbon emissions by 50% by 2030 from 2005 levels.
Moving toward net-zero emissions, while ensuring energy remains reliable and affordable, is a major focus for the organization. Meeting this goal will require innovative solutions and new technologies that create a lasting value.
"OUC's vision is to be an innovative solutions provider and the partner of choice," said Clint Bullock, OUC General Manager and CEO. "Our commitment to carbon emission reduction is just another way we're working to benefit our customers, employees and community."
Getting to net zero will require new technologies. That's why the utility is leveraging today's knowledge while investing in innovation for this vision to become a reality.
OUC's path to a net-zero carbon future includes:

Continued Investments in Renewable Energy

With 270.5 megawatts of solar energy by 2025, OUC will lead the state in solar watts per customer.

Continued Investments in Energy Efficiency

OUC leads the state in energy efficiency programs as a percentage of annual kWh sales.

Electrification of Transportation

A $45 million investment in innovative electrification programs will result in more than 100,000 EVs traveling Central Florida roadways, resulting in a reduction of 450,000 tons of CO2 by 2030.

Energy Storage

A $90 million investment in hydrogen and large-scale battery storage ensure continued reliability that is valued by customers despite the variability of solar.
The new strategic plan also includes initiatives focused on providing customers an outstanding experience and engaging employees through an inclusive culture that prizes safety and innovation.
"As we continue on our path to providing a more sustainable energy future for all of our customers, we believe reducing carbon emissions is the right thing to do," said Bullock.