OUC Gets Top Electric Ranking in Customer Engagement Survey
Date posted
January 24, 2023
Recognition stems from efforts to help customers save energy, manage utility bills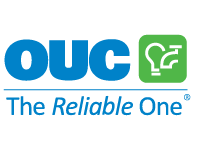 OUC – The Reliable One took first-place honors in yet another national customer survey, leading all electric utilities that were named "2022 Customer Champions." The Cogent Syndicated 2022 Utility Trusted Brand & Customer Engagement™: Residential study ranked utilities for their communication and engagement efforts that focused on helping customers save energy and manage rising utility bills.
Conducted by the human behavior and analytics firm Escalent, the Web-based survey engaged 75,000-plus residential electric and natural gas customers of 141 utilities across the country. Only 37 earned recognition as Customer Champions, with OUC receiving the highest score – 762 – among electric utilities.
"The 2022 Customer Champion utilities are focused on clear communications about customer programs and are helping their customers find offerings that meet needs around managing bills. Also, unlike the industry as a whole, these utilities are sharing messaging around how to lower energy consumption that maintains a high degree of perceived accuracy and clarity," reported Escalent.
"In a year that OUC was named 'Most Trusted Brand' and 'Environmental Champion' in previous Escalent surveys, to be named a Customer Champion is further confirmation of our commitment to our customers and the community we serve," said Linda Ferrone, OUC's Chief Customer & Marketing Officer. "This recognition speaks to the importance we place on keeping our customers informed of how we can help them lower their energy use and make their utility bills more manageable."
As rising energy costs drove up utility bills in 2022, OUC maintained an aggressive communications campaign that sought to educate customers on energy conservation methods and programs, and make them aware of OUC's alternative billing plans, Power Pass and Budget Billing. OUC also promoted its bill-payment assistance fund, Project CARE, that's in place to help financially distressed customers.
This year brought OUC scores of accolades, including the No. 1 ranking among electric utilities named in Escalent's Most Trusted Brand and Environmental Champion designations.