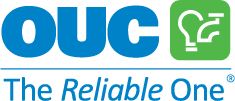 Report affirms OUC as a leader in solar energy among utilities in the Southeast

ORLANDO, Fla. – For the fourth consecutive year, OUC – The Reliable One has been named a "SunRiser" by the Southern Alliance for Clean Energy (SACE).

"SunRisers are the seven utilities exhibiting the highest solar ambition – measured by the increase in watts per customer solar ratio between the base year (2021) and the four-year forecast (2025)," according to SACE's 2022 Solar in the Southeast report. SACE issues the report to evaluate emissions and generation trends of utilities across the Southeast. The report recognized that OUC is on track to increase its solar watts per customer by 1,333 to reach 1,932 watts per customer by 2025, the most of any electric utility in Florida.

"Our designation as a 'SunRiser' is a testament to the innovative spirit that characterizes our team," said OUC General Manager and CEO, Clint Bullock. "I am very proud of our team's shared focus to reach net zero CO2 emissions by 2050, with interim reduction targets of 50% by 2030 and 75% by 2040."

By 2025, OUC's solar energy capacity is projected to produce 496 megawatts (MW), enough power for 90,000 typical Florida homes. OUC has committed $420 million to increasing its solar energy footprint, which will include the opening of two, 74.5 MW solar farms in 2024.