OUC-led Partnership Drives Downtown Orlando Electrification
Date posted
September 30, 2020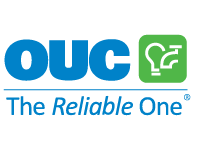 $500,000 Grant to Build EV Charging Station is part of statewide EV infrastructure project
A partnership led by OUC – The Reliable One has been awarded a $500,000 grant to build an electric vehicle (EV) charging mobility hub in downtown Orlando as part of a statewide EV infrastructure project. To be built on OUC-owned land on Robinson Street near I-4 (next to Ace Cafe Orlando), the site will feature up to 22 "Level 3" charging stations, including 16 superchargers for Teslas and six universal chargers boasting up to 350 kilowatts. OUC, the City of Orlando, Orange County and Power Electronics, the maker of EV charging equipment, are partners in the project.
Construction of the EV charging station complements OUC's efforts to increase Central Florida's EV use to 40,000 vehicles by 2025, resulting in carbon emission reductions of approximately 200,000 tons per year.
Transporation is the largest contributor of greenhouse gases in the United States, according to the Environmental Protection Agency.
Awarded by the Florida Department of Environmental Protection (FDEP), the EV infrastructure grant and 26 smaller charging locations are funded by the $13.5 million release of the state's $166 million settlement with German carmaker Volkswagen over emissions violations.
The project is already underway and will be completed in 2021. The station will be the largest high-speed charging hub serving all types of EVs in Florida. It is expected to cost $1 million before the FDEP grant is applied, with OUC and Power Electronics are making up the difference.
"OUC has been passionate about electrification for years – and we're proud to have helped make Orange County one of the most EV-ready counties in the state," said Clint Bullock, General Manager & CEO. "This award, and the progress that will come from it, further reinforces our commitment to reducing carbon emissions shared by the City of Orlando, Orange County and OUC."
Downtown Orlando businesses will benefit from proximity to the site. Most EV drivers will require a 20-60-minute charge, allowing them to spend that time in nearby shops and restaurants. OUC and its partners also are reviewing micro-mobility options, such as shared bicycles and scooters, which will broaden the range of economic benefit.
The Volkswagen settlement and resulting EV infrastructure project are the latest in a series of electrification initiatives that are reducing emissions in Central Florida. Orange County was recently recognized as one of five "top tier" counties for EV readiness in a report presented by the League of Women Voters in Florida. Rankings were based on four measures, including percent of EV sales compared to total registered cars and trucks, charging and fast-charging infrastructure, and policy.