OUC Preps for Dorian & Encourages Customers to Sign Up for Proactive Outage Alerts
Date posted
August 28, 2019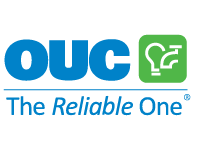 OUC—The Reliable One is closely watching the track of Tropical Storm Dorian as to how it will impact our service area of Orange and Osceola counties. We are evaluating mutual aid needs and are preparing our employees to quickly and safely respond.
At this time, customers are encouraged to review their own family storm plans and sign-up for outage alerts, which include estimated restoration times, at my.OUC.com or by texting REG to 69682 (myOUC). You can enroll multiple numbers and devices to keep everyone in your family informed.
OUC has technology in place that can send text alerts to customers if the storm hits with important restoration information. Visit www.OUC.com/stormcenter for safety tips, our online outage map and to see how OUC prioritizes restoration.
As a reminder here's how OUC operates during a severe weather event:
Stage 1 - Before the Storm: OUC closely monitors approaching storms and makes preparations in case our service area is impacted. OUC continues restoration until it is no longer safe for crews to be out.
Stage 2 - During the Storm: OUC has limited customer service while the storm passes through Central Florida. When it's safe to be in the field, OUC crews respond to major outages or dangerous conditions such as water main breaks and downed power lines.
Stage 3 - Restoring Power – Feeders: Crews assess damage and restore power with a focus on critical customers such as hospitals, wastewater plants, fire and police stations. OUC first works toward identifying a system-wide estimated time of restoration (ETR) before giving individual times.
Stage 4 - Restoring Power – Laterals: OUC crews work as quickly and safely as possible to restore power and identify individual ETRs throughout the community.
Stage 5 - Final Check: OUC makes final restorations throughout the community for individual outages that have not yet been restored.