OUC Recognized As 2019 Healthiest Employer
Date posted
August 23, 2019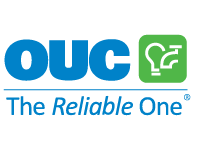 OUC—The Reliable One has been named the healthiest employer in Central Florida for companies with 500-1,499 employees. The award from the Orlando Business Journal honors companies with policies and initiatives that promote the health and wellbeing of their employees.
"Employees are one of our most valuable resources, and their health and wellness has a direct impact on the continued success of our organization," said Latisha Thompson, Chief Employee Experience Officer. "We remain committed to helping change unhealthy behaviors through initiatives that educate the cornerstones of wellness: physical wellbeing, career wellbeing, social/emotional wellbeing and workplace wellness."
Through the Wellbeing: The Power to Thrive program, OUC employees, and retirees on the OUC medical plan, can participate in health and wellness fairs, onsite health screenings, health coaching, onsite boot camps and yoga, social events and more.
"Wellbeing engages employees to help them reach their health goals and make long-term behavior changes that are practical and sustainable," elaborated Thompson.
Employees are incentivized to focus on their health through OUC's Wellbeing website and accumulate points – referred to as Wellness Watts – by participating in activities or events. At the end of each wellness year, points can be redeemed for various incentive options. Also, the utility recognizes many employees as "wellness champions" who encourage their coworkers to participate and adopt a healthier life.
Earlier this year, OUC launched the Downtown Orlando Wellness Co-op with DPR Construction, Dr. Phillips Performing Arts Center, LYNX and the City of Orlando. Members share wellness best practices and tools, and participate in OUC's onsite education, including yoga classes and lunch and learns. A run club to train for the OUC Half Marathon & Track Shack Lake Eola 5K and a community yoga class on the Dr. Phillips lawn will be offered this fall.