Florida Public Power Organizations Celebrate Florida Lineworker Appreciation Day
Date posted
August 26, 2019
The Florida Municipal Electric Association's (FMEA) and Florida Municipal Power Agency's (FMPA) nearly month-long celebration of Florida's public power lineworkers culminated today on Florida Lineworker Appreciation Day. Beginning earlier this month, FMPA and FMEA featured lineworkers from Florida's 33 public power communities in a social media campaign that focused on the commitment to safety needed to perform this dangerous profession.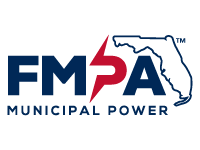 Shared through FMEA's and FMPA's Facebook pages and Twitter accounts, photos, videos, graphics and lineworker quotes showcased the measures lineworkers take to stay safe, shared details about the safety equipment they rely on and discussed the importance of teamwork while on the job.
The campaign also focused on ways in which the community can keep lineworkers safe while they are working. When utility crews are on the side of the road, Florida's "Move Over" law requires drivers to move over a lane. If drivers cannot move over, or when they are driving on a two-lane road, they are required to slow to a speed that is 20 mph less than the posted speed limit.
"Our public power lineworkers literally put their lives on the line each day in order to ensure the people and businesses in their communities have access to low-cost, reliable power. When there is an outage situation, they are the first ones on the scene working long hours under incredibly challenging circumstances to get power restored as quickly as possible for their customers," said Jacob Williams, FMPA General Manager and CEO. "We are grateful for the work our lineworkers do and their absolute dedication to safety. We thank them with all our hearts this Florida Lineworker Appreciation Day."
Florida Lineworker Appreciation Day was created to show gratitude to the men and women who risk their lives daily to ensure reliable delivery of electricity throughout Florida. It was designated by the Florida House of Representatives in 2012 in memory of Marc Moore, a lineworker for Lakeland Electric, who was tragically killed while serving his community in 2002. There are approximately 1,000 public power lineworkers working in the Sunshine State today.
"Lineworkers work tirelessly not only to bring us back online when the power goes out, but also to keep our systems properly maintained to minimize outages. They truly are our hometown heroes," said Amy Zubaly, FMEA Executive Director. "And, while today is a day to honor and pay tribute to Florida lineworkers, we'd also like to recognize the more than 600 power restoration personnel from 16 states, including Florida, who travelled to Northwest Florida to help restore power and rebuild the electric grid in the communities ravaged by Hurricane Michael last year. We are forever indebted to you for coming to our aid following the worst natural disaster to ever impact this part of our state."