FPUA Installs Infrastructure Improvements for Electric Grid Resiliency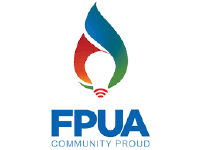 Customers may experience brief rolling brownouts throughout the day
Fort Pierce Utilities Authority (FPUA) is installing infrastructure improvements for electric grid resiliency in advance of hurricane season on Monday (May 22, 2023).
During the scheduled installation, commercial and residential customers may experience rolling brownouts throughout the day.
The brownouts, which are a temporary reduction in voltage or system capacity, may last up to ten (10) minutes. Essential services like hospitals, police, sheriff and the fire department will not be affected.
Installation will begin Monday morning and will be completed early in the evening.
These infrastructure improvements are part of a broader initiative to storm-harden and modernize the FPUA electric grid, ensuring grid reliability and quality service.
FPUA thanks our customers for their patience and understanding as our crews quickly and safely perform electric grid infrastructure improvements in order to better serve the Fort Pierce community.
For updates to this notice, please visit www.fpua.com or visit our Facebook page at www.facebook.com/teamFPUA.