KUA completes first EV Charging Station Hub
Date posted
September 29, 2021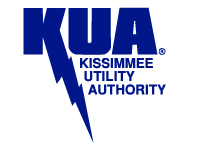 It's National Drive Electric Week, and KUA is proud to announce the installation of its first EV charging Station Hub at the Kissimmee Civic Center that includes one Level-III Fast Charger and three Level-II chargers. KUA also replaced two additional City-owned EV Chargers around the downtown area with KUA EV chargers.
With more auto manufacturers releasing electric vehicles, economists predict that every sixth car sold in the world will be electric by 2025. With an increased demand for these benefits and more affordable models being released, charging stations are increasingly becoming available in local communities, including here in Kissimmee.
"We look forward to further fulfilling our mission to partner with the community and the environment, with 15 more Level-II chargers and four more Level-III fast chargers on the horizon," said KUA President & General Manager Brian Horton.
There are countless benefits to owning an electric vehicle including lower running costs, cheaper maintenance and environmental benefits. KUA customers who purchase an all-electric vehicle are also eligible for a $100 rebate.
To date, KUA maintains 38 active-public commissioned EV chargers in the area, making the utility the leader locally, compared to all other third party EV chargers combined. For a full list of KUA's EV charging stations visit, kua.com/blog/plug-into-kissimmee.