Lakeland Electric Announces New Retail Cash Payment Program
Date posted
March 14, 2023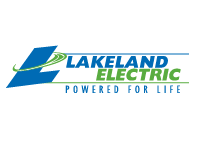 Lakeland Electric is rolling out a new way for customers to pay their utility bills with cash through its Retail Cash Payment program. Beginning March 13, 2023, this program will allow customers to pay their Lakeland Electric or City of Lakeland Utilities bill at local and national retailers where they already shop every day for groceries, prescriptions, gas, and more.
It takes just three easy steps to pay a bill with cash. Customers can visit one of the participating retailers, including Walmart, CVS, Walgreens, Family Dollar, Dollar General, Pilot, Speedway, and more, with their digital or printed bill. A cashier or customer service representative will scan the barcode located under the bill summary, and the customer can then pay their bill with cash.
"We know our customers have busy lives, and anything we can do to make it even one step easier helps," says Korey Bush, Assistant General Manager of Customer Service. "For customers paying with cash, this new program offers so many more easy-to-use locations."
Lakeland Electric will waive the $1.99 fee for the first six months of the program.
The City of Lakeland and Lakeland Electric are discontinuing their kiosks to make way for this new payment program. The Retail Cash Payment program provides a safer, easier, and more convenient way for cash-paying customers to pay their bill. Rather than make a second trip, customers can stop at stores they regularly visit to make a payment in a few simple steps. This new payment option also allows customers to pay inside, out of the Florida weather, and in a more secure location during evening hours.
For more information about the Retail Cash Payment program, visit LakelandElectric.com or call (863)834-9535.