OUC Customers Set All-Time Power Use Record Monday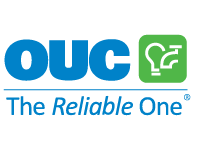 With temperatures soaring into the high 90s, a new all-time electric demand was set by OUC customers on Monday (June 24) at 5:04 p.m. – the most power ever used at one moment in the company's 96-year history. Air conditioners working to cool homes and offices pushed demand by OUC customers in Orlando up to 1,233 Megawatts (MW).
OUC's previous all-time power peak for Orlando of 1,221 MW was set in August 2016. The utility, which also serves the City of St. Cloud, saw a new all-time peak for that section of its service area Monday. Usage in St. Cloud came in at 200 MW.
While OUC has adequate generating capacity, customers concerned about their electric bills should keep an eye on both their thermostat and their electric usage.

To help keep your electric bills down when temperatures rise, OUC recommends that you:
Set your thermostat at 78 degrees or higher, although some customers may need to keep the temperature a little cooler. Each degree you raise the thermostat above 78 degrees will save between 6 to 8 percent on the cooling portion of your bill.
Replace air filters monthly or as recommended by the manufacturer.
Use shades, drapes and blinds to keep the sun and heat out, especially on the east and west windows.
Use ceiling fans to feel cooler, but turn them off when you leave the room. And, set them in a counter-clockwise direction.
Caulk and place weather strips around leaky windows and doors.
Wash only full loads in dishwashers and clothing washers.
For washing machines, use cold water because it save up to 90 percent of the energy.
Clear your dryer vent regularly to prevent fires and improve efficiency.
Check your water heater temperature to ensure it is set to no more than 125 degrees; otherwise, you are wasting energy.
Visit www.OUC.com/hotweather for more tips to save energy throughout the year and to learn how to conduct your own home energy audit. OUC customers can take advantage of robust rebates and incentives to make their homes more efficient, which includes air conditioning upgrades through our preferred contractor network. OUC customers can also monitor their electric consumption through their OUC Usage Dashboard.