OUC Is a 'Most Trusted Brand' in National Customer Survey
Date posted
August 31, 2022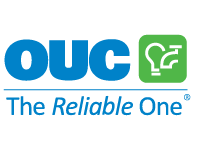 OUC – The Reliable One has been recognized as a "Most Trusted Brand" among U.S. energy providers, according to a national customer survey conducted by the human behavior and analytics firm Escalent. With a score of 749, OUC placed first in the nation among electric utilities included in the 2022 Cogent Syndicated Utility Trusted Brand & Customer Engagement™: Residential study.
The study tracked the performance of 140 gas, electric and combination utilities to identify brand and customer experience opportunities and trends in the industry. Utilities were scored on a 1,000-point scale, with only 39 meeting the benchmark to qualify as Most Trusted Brands. A total of 79,529 customers participated in the survey.
"To be, once again, named a Most Trusted Brand speaks volumes about our values and our relationship with the community we serve," said Clint Bullock, General Manager & CEO. "Trust must be earned, so it makes me extremely proud to know that OUC is held in such high regard by our customers."
K.C. Boyce, Vice President of Escalent's Energy division, said: ""Brand Trust is paramount in maintaining healthy utility-customer relationships. Our 2022 Utility Most Trusted Brands, who despite the challenging times, have maintained high Brand Trust among their customers by proactively communicating with them."
OUC debuted on the Most Trusted Brand index in 2018 and claimed the top score among U.S. electric utilities in the 2020 survey.
Earlier this year, OUC was named a 2022 Environmental Champion in another Escalent customer-focused study gauging utilities' environmental stewardship. OUC scored the most points for "environmental dedication" among electric peers included in the survey.